Daredevil
Marvel // April 1964 - October 1998
Issue count: 381
The Man Without Fear was one of the most original heroes introduced by Marvel in the 60's! See if you may have any of the key issues by clicking the title link!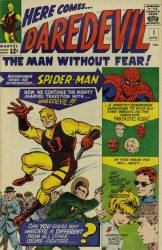 Marvel was riding so high by 1964, with mutiple best-selling superhero books, that they continued pushing the envelope by introducing more far-out and complicated characters.
Nowhere is this more evident than when they rolled out DAREDEVIL that year; here was an unprecidented hero that was blinded in his youth, but because of the presence of foriegn chemicals, was instilled with other senses so sharp, that not only did he go on to be a lawyer, but also a tip-top fighter in peak physical shape that could combat bad guys in NYC's Hells Kitchen area better than most other "sighted" heroes!
He made this decision to aid the under-privilaged as a defence attorney, and battle baddies at night as DD because of the brutal gangland slaying of his father, a washed-up boxer who refused to "take a dive" for the organized criminals that he had become entangled with.
Matt Murdock was a very busy man, with a struggling law practice and a continually challeging love life.
Stan Lee tapped Golden-Age buddy Bill Everett to tell the origin story in issue #1, but after that the Daredevil title would be revolving door for the Marvel "bullpen."
Significantly notable in the early issues are the contributions of veteran Joe Orlando, and one of the greatest artists to take up a brush, Wally Wood (issues #5 - #11). Additionally, a pre-Spider-Man John Romita was given a run of several early outings.
The title was responsible for the introduction of so many villians, and supporting characters, that it is difficult to even partially list them; Stilt Man, The Organizer (and his anthropomorphic cohorts), The Gladiator (issue#18), The re-introduction of Ka-Kar, the Unholy Three, Jester, Turk Barrett, Killgrave, Mr. Fear, Dark Messiah, Crusher, Death-Stalker, and let us not forget the biggies - BULLSEYE (#131) and THE KINGPIN (considered his arch-enemies).
There were a few important developments within this title; beginning with issue #20 (Sept. 1966), Gene Colon would finally become a household name by drawing one of the longest stints by an artist on a single book, his last issue being #100 (June 1973).
Additionally, with issue #92, on-again/off-again romantic interest, THE BLACK WIDOW, would become DD's partner, and receive co-credit on the cover until issue #107.
Thirdly, in 1979, Marvel teamed newbie penciller Frank Miller with veteran inker Klaus Janson to begin a run on Daredevil,with issue #158, that would revolutionize the industry; Miller's brooding, cinematic and edgy approach to the character was like a breath of fresh air to comic books. Miller would gain confidence in his abilities very quckly and be given autonomy over the title, eventually assuming writing duties as well. International fame came with this stint of Daredevil, which brought the highly influential "Elektra Saga" to the stands in 1981.
It is not an understatement to say that Miller's work here changed everything that came after it.
Some fine storylines and artists came after this ("Born Again" by Miller and David Mazzuchelli).
Modern giants Joe Quesada and Jim Lee kept the quality if the book going, and then in the 2000's the team of Brubaker and Lark would produce some great stuff!
The Silver-Age books and the Bronze age books are highly valued, and fetch a pretty penny on the market, but don't count out the later issues for not gaining steam in the collectible realm! If you're looking to sell your comics contact us today for a free appraisal.
Read More
Looking to sell your comic books?
Browse our selection of key issues from Daredevil below to get an instant estimate of their value.
We have been buying and selling for 20 years and have tons of experience working with sellers just like you!