Disclaimer:
When you click on link title "Check Live eBay Prices Here" on this site and make a purchase, this can result in this site earning a commission. Affiliate programs and affiliations include the eBay Partner Network. Check our Privacy Policy for more information.
Daredevil Comics
Lev Gleason // July 1941 - September 1956
Issue count: 134
Before Matt Murdoch, Bart Hill was Daredevil. Find out about the origins of one of the most famous superheroes of all time! See what copies that are floating around are selling for by using our online price guide!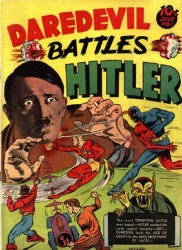 Daredevil Comics was the first comic series that featured the popular superhero Daredevil, before the rights for the stories were acquired by Marvel Comics. In the Marvel Comics, Daredevil is the alter ego of Matt Murdoch, a blind lawyer but with extremely good senses, who fights crime and justice in NY. However, in the original comics, the man in the suit is Bart Hill, and he spends his days battling Nazi forces and tearing up Adolf Hitler's plans to rule the world. This first comic spanned 15 years and 134 issues, and was so successful that Marvel decided to incorporate Daredevil as one of their first superheroes, often appearing in the Spider-Man comics and The Human Torch comics.
Read More
Looking to sell your comic books?
Browse our selection of key issues from Daredevil Comics below to get an instant estimate of their value.
We have been buying and selling for 20 years and have tons of experience working with sellers just like you!