Challengers of the Unknown Comic Price Guide
DC Comics // April-May 1958 - December 1970-January 1971
Issue count: 87
Challengers of The Unknown was one of the very finest "team/adventure" books when DC first presented them in the late 1950's. Top Notch stories and art make earlier issues much sought-out! #14 features the 1st appearance of MULTI-MAN!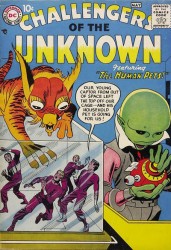 When Joe Simon and Jack Kirby dissolved their partnership in the late 50's (after an under-appreciated run of titles and creations for Prize Comics), Jack Kirby found himself back at DC, taking work on various minor titles.
That changed in 1958 when he was tapped to helm the introduction of Challengers of The Unknown - an innovative and dramatic "team" book which featured four charismatic characters, each with a particular skill set.
Kirby spearheaded the first 8 issues before finding his way to Marvel Comics and creating the groundbreaking Fantastic Four - a team not altogether unlike The Challengers...hmmm.
The book ran for 80 issues, until 1973, enjoying a brief revival in 1977-78. But it is that first initial run of the late 50's that are the most sought-after in the collector community!
Do you have a rare issue or collection of Challenger of the Unknown comics which you'd like to get appraised? Quality Comix have over 20 years experience in buying and selling comics.
Read More
Looking to sell your comic books?
Browse our selection of key issues from Challengers of the Unknown Comic Price Guide below to get an instant estimate of their value.
We have been buying and selling for 20 years and have tons of experience working with sellers just like you!