Disclaimer:
When you click on link title "Check Live eBay Prices Here" on this site and make a purchase, this can result in this site earning a commission. Affiliate programs and affiliations include the eBay Partner Network. Check our Privacy Policy for more information.
Cat-Man Comics
Holyoke // May 1941 - August 1946
Issue count: 12
Raised among cats to become a superhero! See what copies that are floating around are selling for by using our online price guide!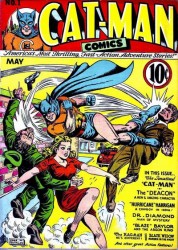 Cat-Man Comics is one of the comic series with the most complicated numbering schemes in history. After issue #5 of Crash Comics Adventures, the series was renamed Cat-Man Comics, featuring the adventures of Cat-Man and other superheroes.

The series started with issue #6 and kept on going until issue #11, when the characters were first sold to Holyoke, where they continued with the comic and the numbering. After 11 more issues, it was sold back to Helnit, and at that point they released issue "v3#8", as a code for what would have been issue #18. The weird numbering lasts until issue #26, after which, the comics were published simply as "#27" until issue #32, which marked the ending of the comic.

Under Helnit Publishing, the series ran for 22 issues, with a little hiatus from 1942 to 1943, where there were 11 issues under Holyoke.
Read More
Looking to sell your comic books?
Browse our selection of key issues from Cat-Man Comics below to get an instant estimate of their value.
We have been buying and selling for 20 years and have tons of experience working with sellers just like you!