Aquaman Comic Book Price Guide
DC Comics // February 1962 - April 1971
Issue count: 63
A relatively minor DC character from the Golden-Age, AQUAMAN became widely adored when he was revived for the Silver-Age! See what key issues to look for in Quality's online price guide! Click the title link above!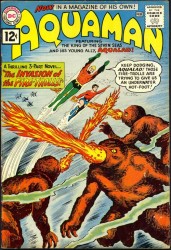 Aquaman made his less than spectacular debut in More Fun Comics #73 as a backup story where he shares his origin with us via flashback monologue:
"The story must start with my father, a famous undersea explorer, if I spoke his name, you would recognize it. My mother died when I was a baby, and he turned to his work of solving the ocean's secrets. His greatest discovery was an ancient city, in the depths where no other diver had ever penetrated. My father believed it was the lost kingdom of Atlantis. He made himself a water-tight home in one of the palaces and lived there, studying the records and devices of the race's marvelous wisdom. From the books and records, he learned ways of teaching me to live under the ocean, drawing oxygen from the water and using all the power of the sea to make me wonderfully strong and swift. By training and a hundred scientific secrets, I became what you see, a human being who lives and thrives under the water."
Aquaman's "powers" were pretty much exactly what you would expect as indicated by his name. For the Golden Age appearances, initially he was able to breathe underwater and control fish and other underwater creatures for a short period of time. He was originally shown to be able to speak to sea creatures "in their own language" rather than telepathically and only in close proximity. His adventures would take him around the globe but always he returned to his underwater base, a wrecked fishing boat in the murky depths.
He gained some small amount of popularity during the wartime issues as he regularly contended with German u-boats and the like. The late 40's and the early 50's would find his sea based crime fighting taking him up against all too familiar foes and he would soon be moved to different books to try and freshen the character, unfortunately to no avail.
Aquaman's last appearance in More Fun Comics was in issue #106, before being moved along with Superboy and Green Arrow to Adventure Comics, starting with issue #103 in 1946.
When DC re-launched the character in the 50's, and as a part of the successful Justice League of America, his status finally rose to the point where the company decided it was time for him to have his own title.
Beginning in 1962, Jack Miller and Bob Haney wrote, and journeyman DC mainstay Nick Cardy was given the art chores. The title sold well enough to keep this team on board for several years.
However, AQUAMAN really began to distinguish itself in the late 60's when Dick Giordano, fresh from creating the obscure but beloved "Action Heroes" line for Charlton Comics, came on as editor at DC and brought young lions Steve Skeats and Jim Aparo along with him. Assigned to Aquaman, this fresh writer/artist team brought a whole new contemporary sensibility to the character, making these issues in particular fan-favorites, and very collectible!
Grab 'em while they are still rising in value!
Do you own an issue of or collection of Aquaman comics that you think might be valuable? Sell your comics to us. We offer a free appraisal on your comics.
Read More
Looking to sell your comic books?
Browse our selection of key issues from Aquaman Comic Book Price Guide below to get an instant estimate of their value.
We have been buying and selling for 20 years and have tons of experience working with sellers just like you!