Disclaimer:
When you click on link title "Check Live eBay Prices Here" on this site and make a purchase, this can result in this site earning a commission. Affiliate programs and affiliations include the eBay Partner Network. Check our Privacy Policy for more information.
Amazing Adult Fantasy
Marvel // December 1961 - July 1962
Issue count: 8
This Marvel offering was in the suspense/horror vein - but this title is mostly known as the precursor of the comic that introduced Spider-Man (in issue #15, dropping the "Adult"from the title).See what the earlier issues go for by clicking above!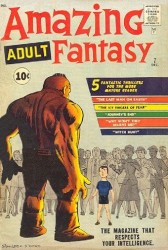 As Marvel Comics was transitioning out of the difficult Atlas-years in the late 50's-early 60's, they noticeably upped their game by offering some really fun, high-quality productions in the horror/supernatural/monster genre!
Relatively recently, collectors have been realizing just what gems these pre-hero books are!
Creative writing (Stan the man), and a stable of artists that would become titans of the "Marvel Age" assumed the duties on a good deal of these comics : Ditko, Kirby, Ayers, Sinnott, Heck and others were around for this period.
And there would be no shortage of work after this fine title dropped the "Adult" from its name and introduced SPIDER-MAN in Amazing Fantasy #15!
Nothing would be the same at Marvel after that, who would now almost exclusively concentrate on superheroes.
But these pre-Spidey issues are both a great read, and of significant value!
Bring 'em in, we'll check 'em out and give you the skinny on what they are worth!
Read More
Looking to sell your comic books?
Browse our selection of key issues from Amazing Adult Fantasy below to get an instant estimate of their value.
We have been buying and selling for 20 years and have tons of experience working with sellers just like you!