All-Winners Comic Book Price Guide
Timely // Summer 1941 - Winter 1946-47
Issue count: 20
Not really a "team" book, Timely did offer some more obscure heroes in All-Winners in addition to their proven faves.We got BLACK MARVEL, THE DESTROYER, THE WHIZZER, & MISS LIBERTY! These are vault-worthy books if you got 'em! .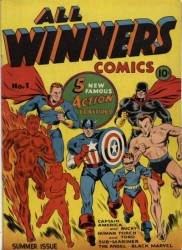 Timely's All-Winner Comics was introduced as a 68-page giant Quarterly in the Summer of 1941, following suit with National/DC who had just started putting their best selling characters in giant-sized quarterlies.
The difference between the DC titles and this Timely title, was that DC's books in this format tended to feature stories all with the same character - for example : their quarterly Green Lantern title gave us a whole 52 - 62 pages of JUST Green Lantern stories, he was otherwise included as the lead story in All-American Comics plus co-features including other heroes. Now, for Timely, the idea was to put 1 story each of their most popular superheroes, and pad it out by introducing new characters, or give more time to ones that had been neglected in their other regular sized books.
The WWII - Era was a boom-time for Timely/Marvel, their heroes were already fighting nazis BEFORE America entered the war - they had successfully predicted where things were headed, and had a staff that was very passionate and outspoken about being against the Axis advance.
Timely's big three best sellers were Captain America, The Human Torch, and The Sub-Mariner, and indeed these were the heroes most prominently featured in All-Winners Comics. The first two issues felt like the book was finding it's footing, featuring The Black Marvel, a character that never really caught on, and The Angel, Paul Gustavson's hero that was already pretty popular in Marvel Mystery Comics, but is rarely referenced today.
With issue #3, All-Winners started to hit a comfortable stride, adding The Whizzer and The Destroyer as backup stories in addition to the big three. Notable within the next few issues, was the addition of a young Mickey Spillane to the writing staff (Spillane, of course, would go on to pulp-detective fame and fortune with a prolific string of novels featuring his famous creation, Mike Hammer!). Spillane scripted The Human Torch story in issue #3 and in #6, in addition to a couple of 2 page text stories as filler along the way.
As with their other quarterly, All-Select Comics, issues #7 through #18 featured the fantastically dynamic cover art of master Alex Schomburg, making these worth the cover price alone (still 10 cents! A bargain!)!
Paper and labor shortage reduced the book to a more standard 36 pages for issues #14 through #16, in which issues Timely jettisoned the Human Torch story (during this same period, All-Select did away with their Sub-Mariner story).
Things returned to "normal" with issue #17. Going back to the 52 to 68 page format, and reinstating the Torch story. Funny thing is, though, that in the meantime, America had dropped "The Big One," and just-like-that, it seemed like there was nobody left to fight. This was Winter 1945-1946, and the beginning of the downward trend in the popularity of the superhero craze of the so-called "Golden-Age."
All-Winners pressed-on for two more issues with a new format ; the (oddly numbered) issues #19 and #21, added Miss America to the fold, and our regular cast started fighting alongside in one continuing storyline as a super team dubbed The All-Winners Squad (DC had had this idea well sewn-up with All-Star Comics and The Justice League of America for several years now). A good idea whose time had unfortunately passed Timely by.
All 20 issues are not seen much nowadays on the market, but when they pop-up the often fetch unbelievable prices! Use Quality Comix's online price guide and check 'em out! Sell your rare comics to us - we offer free appraisals on all comics.
Read More
Looking to sell your comic books?
Browse our selection of key issues from All-Winners Comic Book Price Guide below to get an instant estimate of their value.
We have been buying and selling for 20 years and have tons of experience working with sellers just like you!