Disclaimer:
When you click on link title "Check Live eBay Prices Here" on this site and make a purchase, this can result in this site earning a commission. Affiliate programs and affiliations include the eBay Partner Network. Check our Privacy Policy for more information.
All-American Comics
DC Comics // April 1939 - October 1948
Issue count: 102
DC's All-American Comics introduced the world to THE (original) GREEN LANTERN with issue #16! High-quality stories and great backups make these 40's issues having collectors clamoring for originals! Examples of going rates here...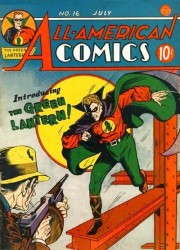 ALL-AMERICAN Comics #1 was published in 1939. It featured a grab-bag of different genres; humor, boy-adventurers, military stories, funny animals, etc. It's important to note that All-American Comics was actually a third piece of a much larger puzzle and historically significant in more than one way. Max Gaines formed All-American Publications, which published All-American Comics, after receiving funding from Harry Donenfeld, CEO of National Allied Publications, publisher of Action Comics. Donenfeld also helmed Detective Comics, National's sister company. All-American Comics #14 would be the first issue of that title to carry the "DC" logo on the front cover to which all agreed, for marketing purposes, was the best way to tie it to the growing influence of the fledgling DC brand. It would be just five years later that Gaines would be removed from the picture allowing All-American, Detective, and National to consolidate into what we now know as DC Comics!
Interestingly and ironically, after selling his stake in All-American Comics to a minority partner, Max Gaines would take only one property with him to start his new company. A company that would be owned by him and him alone. That title was "Picture Stories from the Bible" and the company he would form was Entertainment Comics better known as "EC". What is the irony you might ask? Max Gaines' son was William Gaines. The younger Gaines had the same love for comics and business as his father but his imagination was firmly in the grip of sci-fi, horror, and America's underground cultural influences. It's under William's direction that pre-code horror comics would cross lines that brought the harsh glare of Frederic Wertham, the U.S. government and an industry to it's knees. But that is a story for another time.
All-American Publications, as a publishing house, also was the parent of Flash Comics. Issue #1, debuting in January of 1940, contained the first appearance of other future DC mainstays, the Flash and Hawkman. This is notable because the first issue of Flash Comics preceded All-American Comics #16 by five months. It wouldn't be long before the super hero bug hit the pages of All-American Comics.
It was at this point the title was brought into more focus with issue #16 with the introduction of one of DC's most enduringly popular characters : THE (original) GREEN LANTERN! Just a few issues later we would meet The Atom, another DC staple.
GL was the cover-featured lead story for most of the run of All-American (1948), and boasted great stories and great artists (Martin Nodell, Sheldon Moldoff, Irwin Hasen, Paul Reinman, Alex Toth).
Adding to the attractiveness of this highly collectible Golden-Age book was a cast of much adored supporting heroes including DR. MID-NITE and of course, the humourous first incarnation of THE RED TORNADO!
The last few issues saw DC trying to morph All-American into a western-style title. It didn't work, and then it was gone.
Collectors covet this high quality Golden-Age comic book, which can fetch a good amount of beans at market!
Read More
Looking to sell your comic books?
Browse our selection of key issues from All-American Comics below to get an instant estimate of their value.
We have been buying and selling for 20 years and have tons of experience working with sellers just like you!