Disclaimer:
When you click on link title "Check Live eBay Prices Here" on this site and make a purchase, this can result in this site earning a commission. Affiliate programs and affiliations include the eBay Partner Network. Check our Privacy Policy for more information.
All Top Comics
Fox // Spring 1946 - July 1949
Issue count: 19
Dubbed "Good Girl" art - that is, stories featuring buxom, scantily clad women either in bondage, or in a position of power over men, Fox's All-Top #8 changed this title from a "funny animal" book, to a Good Girl book! The last 11 issues are very sought!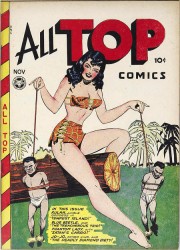 The first phenomenon that was an indication of the loosening of sexual mores in America, which would reach a cultural head in the 1960's, had its roots in World War II with the advent of the "Pin-Up." The idea was that "our fighting men" found comfort in postable photos of either popular starlets dressed provocatively, for the time, or drawings of of a more racier nature depicting partially nude idealized images of flirty, come-hither-type of beauties; there was not a lot of contact with actual women in the barracks, ships and camps of our fighting forces…
After the war, the spirit of pin-up culture endured and eventually infiltrated other mediums; for the first time since the 30's, for example, when the Hayes Code was adopted by the motion picture industry which put restrictions on the depiction of overtly sexually dressed women and suggestive dialogue, was relaxed as Film Noir and neo-realism became the trend in movies. Tight sweaters and double-entendre were abound in the films of the late 40's to late 50's.
Comic Books were no exception. Real Crime and Detective comics often had sexually-aggressive women characters that were not averse to freely lounging around in semi-see-through negligees, or conversely, being bound or tied-up in torn clothing by some bad-guy. The jungle comic asserted wide popularity also, as a spate of "jungle-queen"-types of characters also started appearing from nearly every publisher; these were ready made to feature scantily clad babes wearing not much more than some kind of two-piece bikinis, that were invariably constructed out of wild animal skins.
This brings us to Fox Features notorious All-Top Comics. The name itself evoked a concentration on the bustlines of women. However, it was not that simple, as the title of the book did not initially intend to have that connotation…
All-Top Comics began life as a "Funny Animal/Humor" book. Debuting as a quarterly title in the spring of 1946, and contained such kiddie fare as Cosmo Cat, Flash Rabbit, Hedy Hippo, and Walter the Waiter. This was how the book went for 7 issues.
In what was possibly the most dramatic of turnarounds in format and content changes ever experienced in the comic book industry, issue #8 hit the stands, not with Cosmo Cat on the cover, but a leggy beauty named Rulah, Jungle Goddess, wearing a barely attached animal skin, excellently rendered by Jack Kamen, who was a kind of specialist in this sort of thing.
For 11 issues (#8 - #18), Rulah ruled the lead stories and the covers, and other vampy heroines were consistent co-features; Jo-Jo, another jungle gal, The Phantom Lady, a tough superhero that revealed lots of cleavage. And longtime Fox property, The Blue Beetle, was also given a story in each issue, albeit with the "buxom damsel-in-distress" quotient kicked up a notch in these stories.
Fox was not the only publisher doing this kind of book, virtually everyone else had some variation on this format on the market. But Fox did have the two undisputed Kings of this genre, which in time became known as "Good Girl Art," in their artist pool : Matt Baker (one of the only African-American comic book artists to get mainstream work, and whose life was tragically short), and Jack Kamen, a master craftsman in regards to rendering the female form (a skill which he honed at EC Comics, among others). With the sporadic Kamen and Baker covers and interior work, there was additional material provided by uncredited artists from the famed freelance outlet, The Iger Shop. And Al Feldstein provided a memorable cover to issue #14.
The writing was starting to be on the wall, so to speak, that the kibosh was going to be put on such racey material, and All-Top ceased production in the summer of 1949.
Regardless, this is one of the best and most collectible of the "Good Girl" books...
Read More
Looking to sell your comic books?
Browse our selection of key issues from All Top Comics below to get an instant estimate of their value.
We have been buying and selling for 20 years and have tons of experience working with sellers just like you!