All American Men of War Comics Price Guide
DC Comics // December - January 1952- 1953 - September - October 1966
Issue count: 116
Gritty 1950's war title from DC! Early issues are coveted among war collectors, and key issues introduce favorite characters GUNNER & SARGE and JOHNNY CLOUD! See what yours may be worth, just follow the title link!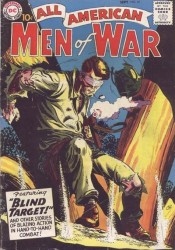 Less than a decade after the tragedy that was WWII, Americans found themselves facing the reality of war again. As this "Police Action" became part of our daily lives so there became a great quantity of very popular War Comics invading the stands. Gone was the war bond selling, picturesque hero of yesteryear. Gone was the "jap smashing, kraut crushing" covers synonymous with WWII. There was a much higher dgree of realism in the art and the writing. Perhaps these books were filling a gap because of the reluctance on the part of the men returning home to talk about the horrors that they had witnessed? Perhaps the creators felt the need to share more accurately the affects of war?
Whatever the reason, America found itself embroiled in another conflict far away. We needed to know more about what our fighting men and women faced on those foreign shores. DC answered the call in 1952 by converting a lagging western title to fill the void and gave us one of the best, ALL-AMERICAN MEN OF WAR!
We would be introduced to Action-packed battle sequences and tales of morality and the personal cost of combat, a real appealing aspect of this title was the amount of great artists and illustrators that passed through the ranks : Bernie Krigstein, Mort Drucker, Russ Heath, Joe Kubert, Bob Brown, Carmine Infantino, Irv Novick, Mort Meskin, Gil Kane, Ruben Moreira, early Ross Andru and Gene Colon were regular contributors. This is also the series which introduced fan-favorite characters Gunner & Sarge and Johnny Cloud!
Writer Robert Kanigher and artist Ross Andru introduced Gunner and Sarge in issue #67 as one of the first recurring features in Golden Age war comics. Ironically, most of Gunner and Sarge's adventures would unfold in Our Fighting Forces, a sister book to All-American men of War, also written by Robert Kanigher. Kanigher's talents would bring the "Tank Killer" stories to life as well with riveting, nail biting pacing and realistic art to boot.

Johnny Cloud was a Native American World War II P-51 Mustang pilot. One of the earliest portrayals of a Native American in a non "traditional" role as a "red-skin". Once again we find Kangher at the helm along with Irv Novick. Known as the "Navajo Ace", Johnny Cloud made appearances in every issue from #82 to the end of the series in 1966.
Gunner, Sarge and Johnny Cloud would all three turn up later as part of a squad known as The Losers. This was a team which in the late 60s and early 70s became the main feature of Our Fighting Forces.
Never let it be said that DC didn't have creators that respected history. The comic series also included Lietenant Savage, the Balloon Buster. A World War I aviation strip written by Robert Kanigher and drawn by Russ Heath. This character and story was conceived to serve as a foil to the German Enemy Ace. Later continuity established that Lt. Savage was the son of Brian Savage, also known as Scalphunter, as well as the grandson of Matt Savage, a character from Western Comics.
All-American Comics had changed ownership and direction by the time it was rebranded a western title with issue #103. All-American Western was born and after just 23 more issues would sufer the same fate as its predecessor. Issue #127 would be the first issue of All-American Men of War. Immediately after this issue DC would make the decision to renumber the series. This means the next book was titled All-American Men of War but instead of being #128 it was #2.
While All-American Men of War ran well into the Silver-Age, ending in 1966, the 50's issues remain the ones that collectors are most looking for!
Looking to sell your comic books? Browse our selection of key issues of All American Men of War below to get an instant estimate of their value. We have been buying and selling for 20 years and have tons of experience working with sellers just like you! Get in touch for a FREE appraisal.
Read More
Looking to sell your comic books?
Browse our selection of key issues from All American Men of War Comics Price Guide below to get an instant estimate of their value.
We have been buying and selling for 20 years and have tons of experience working with sellers just like you!