Disclaimer:
When you click on link title "Check Live eBay Prices Here" on this site and make a purchase, this can result in this site earning a commission. Affiliate programs and affiliations include the eBay Partner Network. Check our Privacy Policy for more information.
All-Flash
DC Comics // Summer 1941 - December 1947-January 1948
Issue count: 32
Flash Comics, so popular for DC in the early 40's, that they started All-Flash Quarterly. And it was just that - it came out 4 times a year, and featured only FLASH stories, no backup features! Jam-packed with great stories and art, market value is high..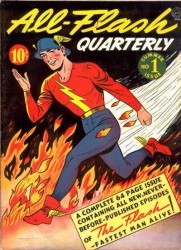 Max Gaines was a man with ideas and he was going to ride this new super hero wave to success. He had already successfully launched All-American Publications and was producing All-American Comics, an anthology series that showcased the standard fare of the day, funny animals, humor, young adventurers and the like. But times were changing and they were changing fast. Times like these that had heroes like the successful Superman and Batman, demanded a hero that could meet history on his own terms! FLASH COMICS was introduced in 1940 and brought us the Flash and Hawkman and in the process became an immediate "runaway" best-seller!
So what do you do next with with such a popular superhero? Why, you reward them with their very own title! Thus came ALL-FLASH QUARTERLY! Which is exactly what it said it was - a comic that came out 4 times a year, packed with 68 pages of only FLASH stories! All in all there were 32 issues of this super-spectacular, that ended it's run in 1948. But what a "run" it was (pun intended)! The books were so successful that their elder sister publication, All-American Comics would introduce a new hero just 5 months later with issue #16. Enter the Golden Age Green Lantern, Alan Scott. Of course the rest they say is history as many more would follow.
In that time we saw The Flash transform through the fairly modest art of Larry Lampert, into the later sophisticated renderings by Lee Elias and Carmine Infantino (the latter becoming known as the "definitive" Flash artist after he was given a second life in the Silver-Age).
The Golden Age is thought of as such because of the "renaissance" of the contents of the comic book in this period (1938 to 1955). It would be during this seminal period that companies like DC would form from multiple publishing houses. Other publishers such as Fawcett and Timely would move to intercept the super hero wave and get caught up in its wake.
The series debuted in the Summer of 1941. For perspective, that is the same year that Ted Williams and Joe Dimaggio were duking it out for MVP honors in Major League baseball (spoiler alert: Joe D. won). Since the title Flash Comics was already in use another name was needed for the series. The brass at DC decided that a contest was to be held and the readers were encouraged to submit their own ideas for the title of the new series. There was Twenty-five dollars in cash prizes up fpr grabs to the top four best names submitted. An amazing $10.00 was promised to the 1st-place winner of the contest. In 1941 that $10 bill would get you 100 comics!
To the first 500 people who submitted entries a free copy of All-Star Comics #5 was offered. An advertisement for the contest appeared in the pages of All-Star Comics #4 stating "The Flash wins and becomes the next quarterly like Superman and Batman! Boys and girls! Here is a message from Gardner F. Fox and E.E. Hibbard, the author and artist of your favorite feature, the Flash!"
"
Thanks, Boys and Girls, for selecting our feature THE FLASH, for the next Quarterly like "Superman" and "Batman"! We were both very happy when we received the good news, but we suddenly discovered that we have a problem---and we'd like you to help us solve it! As you know, the FLASH not only appears here in All-Star Comics but is also a regular feature of the monthly magazine, Flash Comics! Now here is our problem:
If we call our Quarterly simply The Flash, which seems like the natural thing to do, our editors feel that too many of you readers would confuse it with Flash Comics, the monthly magazine.
Your job will be to think up a suitable title for the Flash Quarterly that will distinguish it from Flash Comics. An example of a possible title would be Jay Garrick, the Flash or The Adventures of the Flash, etc. --- as long as it doesn't sound too much like Flash Comics.
"
— Gardner Fox & E. E. Hibbard, 1941

The winner of the contest was announced in the pages of All-Star Comics #5, with an ad featuring the cover art for the first issue of All-Flash. The title would remain quarterly until issue #7 where it would become bi-monthly.
These early Golden Age (1938 - 1945) issues are harder to come by for collectors because there were so few, by comparison, to Flash Comics - which only featured either 1 or 2 Flash stories at most (plus backups with other heroes).
Read More
Looking to sell your comic books?
Browse our selection of key issues from All-Flash below to get an instant estimate of their value.
We have been buying and selling for 20 years and have tons of experience working with sellers just like you!