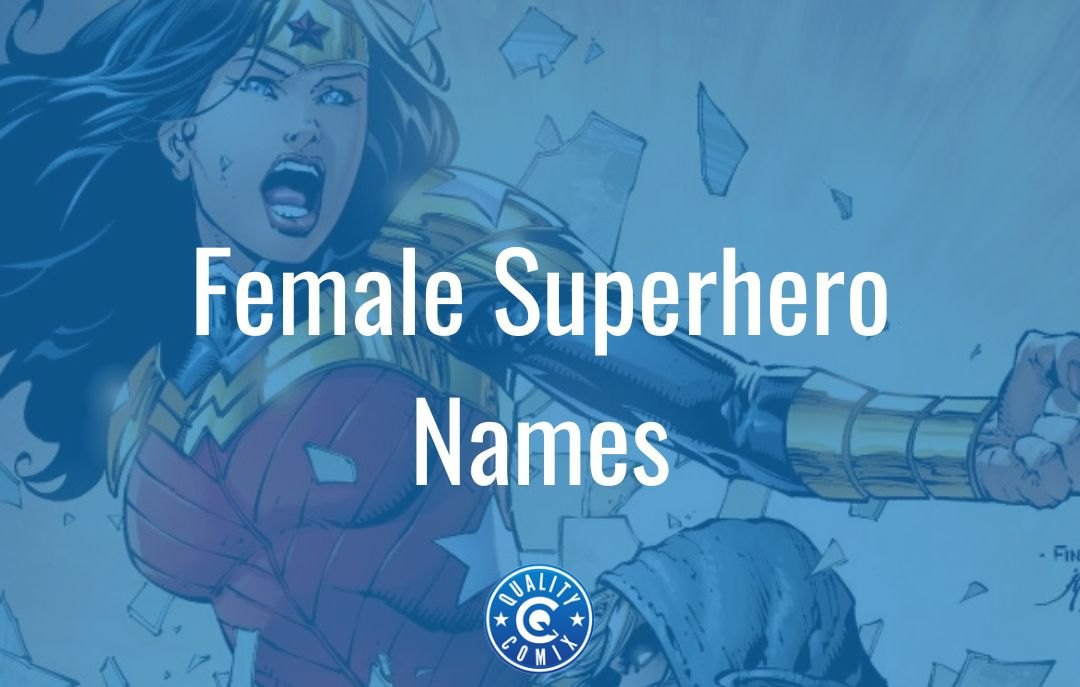 (Image credit: DC Comics)
If you love to create your own superheroes - either for yourself, to entertain your kids, or even to include when writing your own comic books or screenplays - it can be difficult coming up with new names for your characters off the top of your head.
Here at Quality Comix, we're huge comic book fans and have over 20 years buying and selling vintage comic books, so we know a thing or two about superheroes! We've created this handy guide to help you find some inspiration for naming your next female superhero!
Let's jump straight in.
Step 1: Read our inspiration list
Scroll down to the bottom section of this page. There you'll find a HUGE selection of kickass female comic book heroes - some well-known, some not so much!
Reading this list will help get your creative juices flowing and fuel your imagination with great character names before you start working on your own names.
Step 2: Soar into the superhero zone
Read a comic book or watch a superhero movie to help get you into 'the zone'. If you're short on time, you could try watching movie trailers, or even fan made trailers or shorts to get your brain ticking!
Step 3: Every hero needs an origin story!
If you're struggling to come up with a hero name from scratch, try writing your superhero's backstory. Fleshing out the character and figuring out how she became who she is can help spark ideas.
You could ask yourself:
What are her powers?
How did she get her powers, is it something she was born with?
Where does she come from - Earth or a distant planet?
What is her superhero costume like?
Who are the supporting characters in her story - does she have any family or friends?
The more details you can nail down, the easier it will be to decide on a name for your latest female superhero creation.
Step 4: Venture into outer space
Some of the greatest characters in literature, TV and movies take their names from cosmic locations or objects in outer space. From stars and moons, to planets and comets, inspiration can be found all around the solar system!
Some favourite uses include:
Members of the Black family in Harry Potter are all named after stars - Sirius, Regulus, Andromeda, Bellatrix. Even Draco's namesake is a constellation in the northern sky!
Many Guardians of the Galaxy characters have space-related names, including Nebula (a cloud of gas and dust in outer space), plus the more obvious Rocket and Star-Lord.
Prince Oberon from the Game of Thrones series - Oberon is a major moon of Uranus.
Holmes is the name of a periodic comet travelling through our solar system, as well as the famous detective, Sherlock.
Even Disney uses this trick for their stories - including Ariel (another Uranus moon), Pluto (a former planet), Aurora (as in Aurora Borealis - the Northern Lights), and many more over the years!
Search the internet for the names of stars and moons - you could find your next female superhero name among them! Take the constellation Columba; the meaning of this name is 'the dove', so you could use that to inspire your character's superhero powers… maybe give her a white outfit and the power to fly!
Step 5: Mash up your favourite names
If you're not there yet, you could mash up some of your favourite comic book character names to make new ones! Here are some suggestions to get you started:
Scarlet Cat
Silver Spectre
Diamond Witch
Crimson Moon
Iron Ghost
Star Scout
Step 6: Choose a name for your hero's alter ego
If your female superhero has a secret identity for when she's not busy saving the world, she needs a great name to go with it. Many of the most well-known comic books use alliteration for their heroes' alter ego or character names - from Peter Parker to Lois Lane, Bruce Banner to Wade Wilson, and Pepper Potts to Steven Strange - making them easier to remember!
The internet is filled with lists of baby names, so once you have a first name down, follow in the footsteps of some of the best writers from Marvel and DC, and pick a last name starting with the same letter.
Here are some examples:
Rebecca Riley
Tara Taylor
Debra Donavon
Megan Mayfield
Bobbi Benjamin
Step 7: Write down your top 10 ideas
Focus on writing a list of your 10 favourite name ideas. Say them out loud to see if they have the same punch when spoken. Then narrow them down until you find THE ONE!!
Female Superhero Name Inspiration for Step 1
Now starting at Step 1, use this handy list of already imagined heroes to fill your brain with ideas and inspiration, and then make your way through the steps to create a powerful name for your own female superhero!
Tempest (Angel Salvadore)
Dazzler
Vixen
Spider-Woman (May Parker)
Cleopatra
Wonder Woman
Super Wendy
Negasonic Teenage Warhead
Catwoman
Venus De Milo (Teenage Mutant Ninja Turtles)
Quake
Sailor Scouts
Diamond Lil
Mistress Mare-velous
Bumblebee
Gamora
Fire
Mothra
Tatsumaki
Sara Pezzini
Ravager (Rose Wilson)
Swift
Pixel
Chibiusa (Sailor Moon)
Ruby
Ghost Rider (Alejandra Jones)
Bride
Jessica Jones
Barb Wire
Talisman
Lavagirl
Power Ponies
Ladybug
Nelvana of the Northern Lights
Stinger
Blur Girl
Skylar Storm
Batgirl
Aurora
Powerpuff Girls
Shadow Lady
Supergirl
Hellcat
Storm
Ninjette
M
Madame Web (Julia Carpenter)
Superwoman (Lana Lang)
Polaris
Monster Girl (Invincible)
Elektra
Captain Brazil
Clobber Girl
Killer Frost
Furious
Shuri
Gloriana
Sue Storm
Nico Minoru
Jean Grey
Freefall
Ronin
She-Ra
Runaway
Domino
Fantômette
Sif
Birds of Prey
Invisible Woman
Spider-Woman (Mattie Franklin)
Masked Matter-Horn
Freakazette
Kinetix
Dolphin
Red Riding Hood
Supermom
Bug Girl
Layla Williams
Jun-Gal
WordGirl
Jungle Girl
Yummy Mummy
Wasp
Strange Juice
Guppy
Bat Cleo
Valkyrie
Tonde Burin
Stripperella
Aero
Divinity
Namorita
Araña
Maid
Supercow
Enigma
Mare Do Well
Black Scorpion
Moon Girl
Black Widow
Moonstar
Rogue
Grace Choi
Kinnikuman Lady
Batwoman
Vampire By Night
Ocelotina
Flower Girl
Mary Marvel
Nya Smith
Princess Strong Blossom
Night Nurse
Wind Dancer
Alia
Namora
Victories
Jugganaut
Snowbird
Witches
Fantomah
Spark Girl
Jubilee
K'ryssma
Engineer (Angela Spica)
Ghost (Dark Horse Comics)
Jenny Wakeman
Scarlet Witch
Bettgum
Guppy Girl
Violet Parr
Silk Spectre
Arisia Rrab
G-Girl
Panther Girl
Weather Woman
Mockingbird
Prestige
Sailor Venus
Crystal Gems
Huntress (Helena Wayne)
Atom Eve
She Cat
Blink
Elastigirl
Cybersix
Captain Marvel (Carol Danvers)
V.R. Troopers
Sailor Chibi Moon
Blossom
Spitfire
Veiled Avenger
Thor (Jane Foster)
Black Cat
Sailor Neptune
U-Go Girl
Cowgirl
Bubbles
Mantis
Femforce
Mera
Sally Sonic
Magik
Zealot
Abigail Brand
Hit-Girl
Toybox
Chain Lightning
Makro
Psylocke (Kwannon)
Miss Fury
Crystal
Wallflower
Pro
Buttercup
Liz Sherman
Mother Hive
Shi
Taylor Hebert
Aquagirl (Tula)
Ms. Marvel
Sailor Moon
Femifist
Calamity Kate
Web Woman
Clubhouse Heroes
Aspen Matthews
Boodikka
We've come to the end of our guide to creating the best female superhero names! If you follow our steps, you're sure to have a great name for your new superhero in no time.
And if you're writing your own story, comic book or screenplay, you might find our helpful guide to creating villain names useful too!