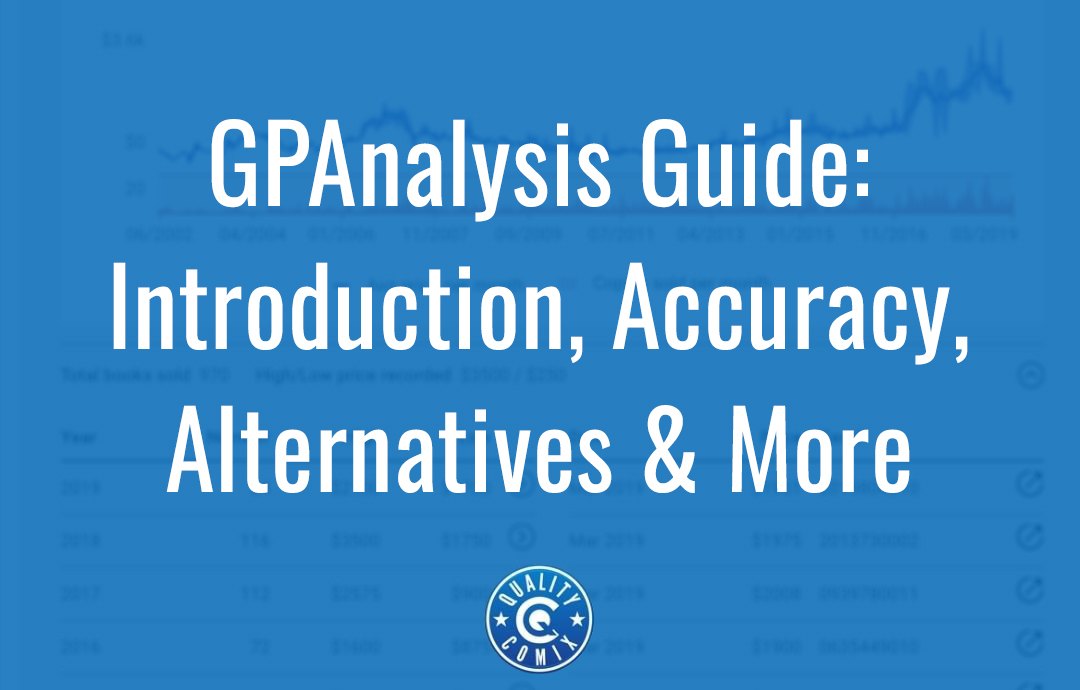 You have key issues of comics graded by the industry giant CGC, and you've decided it's time to part ways with them. You know what you have, but the question is: how much are they worth?
The usual process for valuing a comic, even a valuable and graded key, is to check recently completed auctions and listings on various sites like eBay and Heritage Auctions. Usually, that will give you a decent picture of the current going rate for the comic in question. And if you're talking about comics in the sub-$1,000 range, being a little bit off doesn't really impact your bottom line all that much.
On the other hand, there are a bunch of problems with this method.
What if the comics haven't actually hit the market or sold in several years?
What if the prices you see are all over the place, and you don't know what to trust?
What if the comic has been shill bid up or otherwise inflated?
What if there are no comparable sales in terms of CGC grade?
You can only get so accurate with a brief survey of recent information, and as nice as eBay is with showing completed auctions, it can also show you a ton of information that isn't really necessary and makes it difficult to find appropriate historical information on pricing and sales.
None of these are new problems. In fact, they've been around long enough that the service we're talking about today – GPAnalysis – has been working to solve them for two decades and counting. If you have a few big comics or a whole collection to appraise, there are some great tools available to help you out. Let's dig in!
Table of Contents
What is GPAnalysis?
GPAnalysis is a service that monitors and records sales of high-end, CGC-graded comic books from around the internet. They watch major sites like eBay and Heritage Auctions, as well as a variety of other major venues, and aggregate plenty of data about the books and their sales.
What kind of information?
The type of sale, to add context (for example, live auctions may sell for less than longer-term async auctions where more interested bidders can bid).
The book's grade, so you can always compare apples to apples, since we all know how hard it can be to estimate what a 9.9 book would be worth when all you have is data on 9.5s.
Anything unique or noteworthy about the book, like it being signed or unusually complete, rare, or a variant. Pedigree, label type, and other CGC information are recorded as well.
The most recent sale recorded for the book and when that sale was.
Annual average sale prices year to year, with comparative values to tell you if the price is rising or falling.
90-day and 12-month averages, to tell you what recent sale prices are, which can be especially helpful for rapidly fluctuating books.
Individual book tracking by CGC serial number, so you can see the specific history of a given book if it's been tracked.
GPAnalysis also has a variety of other useful features beyond pure data collection. In particular, they have a dashboard of currently-live auctions from their partners, including Heritage and eBay. Comics investors and traders can use this dashboard to watch for deals and bid on items that suit their criteria without doing all of the price legwork themselves. Note that if you do click through and buy a comic from their link, it's usually an affiliate link and will earn GPAnalysis a commission, but that doesn't impact your costs at all.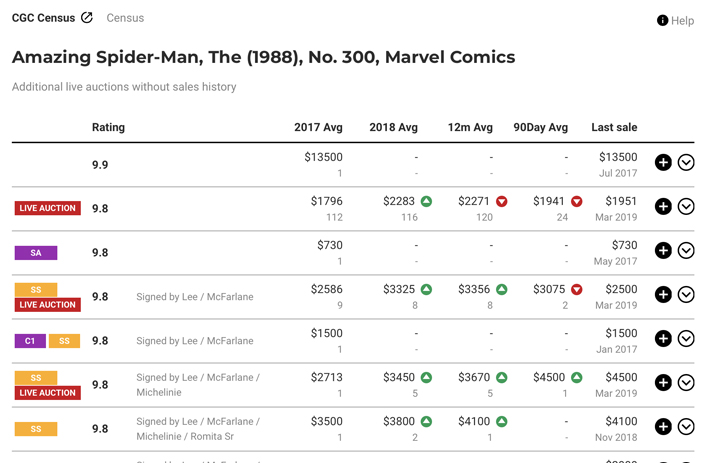 Image source: https://comics.gpanalysis.com/images/uploads/content-images/gpa_features_mainanalysis.png
It also offers a database you can use to plug in the comics you own. You can record your own information about them, which both adds the sales to the GPAnalysis database if they didn't already have it, and keeps a "my collection" list so you can see everything you have with its currently available sale prices, all in one place.
GPAnalysis does a lot of work to maintain its database, as well. For one thing, they've been storing sale and price history for over 20 years, making them one of the best sources of historical price data for CGC comics anywhere.
They also keep an eye out for anomalies. If a sale happens, but the book is returned and relisted, or if a sale is found to be fraudulent, sold in error, or otherwise not a valid data point, it's removed from the live list. The information is still kept, but it's listed under errors and non-sales.
All in all, it's a fantastic resource for serious collectors and comic investors, with a ton of information you can't find anywhere else.
How Much Does GPAnalysis Cost?
This kind of analytics service doesn't come free. People need to record the information and perform the analysis, not to mention keep the development of the platform ongoing. As you might imagine, this all costs money, so they sell access to their platform via a subscription.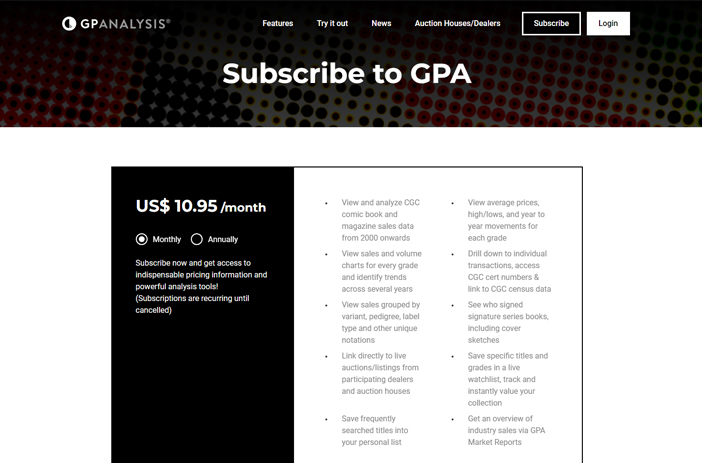 You have two options: a monthly and an annual subscription. Monthly runs you $10.95 per month, while the annual pricing is $119 per year (or $9.92 per month). Other than the pricing and how frequently you're billed, there's no difference between these subscriptions.
They also have an example dashboard you can access with their "try it out" link. This is a prepopulated set of three specific popular comics meant to show you the kind of data and presentation you'll get out of the real thing.
Is GPAnalysis Worth the Money?
This is a very personal decision, and it comes down to what kind of pricing information you need and how serious you are with buying and selling graded comics.
If you deal with comic collections all day, like if you're a serious broker, want to use comics investing as a significant source of income, or have some valuable books, and you want to make sure you aren't going to be ripped off when you sell them, a tool like GPAnalysis can be an invaluable addition to your toolset.
If you're looking to get into comics investing, having a reputable source of historical data – and market reports and links to live sales – can be a great resource. It can give you a ton of information and help reduce the chances that someone will sell you an overpriced book because you don't know better.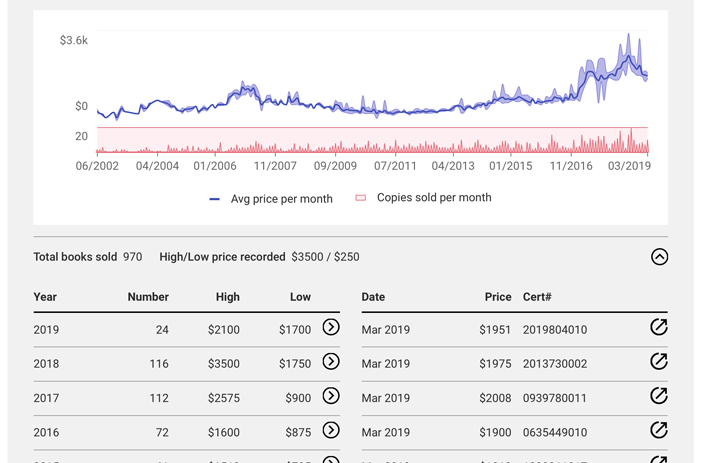 You can also get a lot of value out of GPAnalysis if you have a collection that you want to sell. You can input your collection, export all of the relevant data about it, and keep that moving forward as you sell. You don't even need more than one month of service unless your collection is seriously extensive, either.
On the other hand, there are certainly plenty of reasons why you might not want to get GPAnalysis.
What Are the Drawbacks to GPAnalysis?
The two biggest drawbacks to GPAnalysis are pretty simple but insurmountable.
They don't track or record sales on non-graded comics.
They don't track or record sales on non-CGC-graded comics.
CGC is the largest and generally most reputable of the comics grading companies, but they're just one player in the field, even if they're the biggest on the board. Other companies, like CBCS, PGX, and EGS all exist and grade comics, and people buy and sell those comics.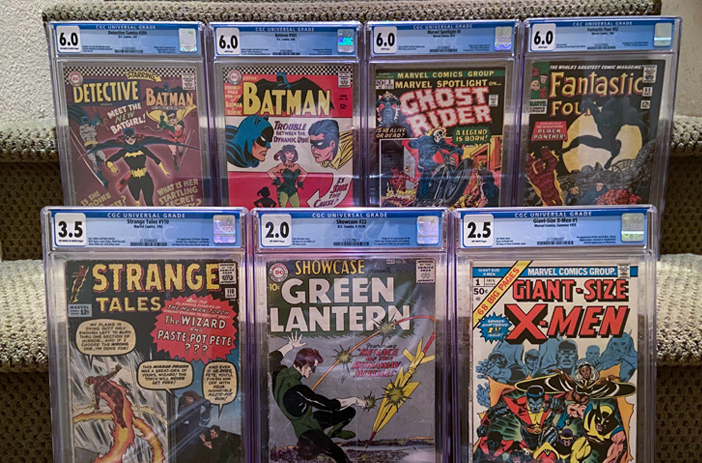 Unfortunately, this means that if you rely on data from GPAnalysis, you're limiting yourself on the range of comics you can buy and sell.
And, of course, ungraded comics are also a huge and thriving market. While it's rare to see any of the hugely valuable comics without some kind of grade and protective slab, there are plenty in the sub-$1,000 range without grades. Plenty of dealers make a good living buying and selling these comics, and sometimes buying up a cheaper ungraded comic that could spike, and grading it when it does, can be a good investment opportunity.
So:
If you want to deal in graded comics outside of just CGC, or
If you want to deal in ungraded comics, or
If you aren't super serious about buying and selling
You won't get that much out of GPAnalysis. It's a powerful tool for what it does, but what it does is somewhat limited.
Are There Alternatives to GPAnalysis?
Certainly. GPAnalysis is probably the largest and most comprehensive data tracker for pricing and sales information, particularly with CGC comics, since they've been at it since 2000. That doesn't mean that no one else can throw their hat in the ring, though. Here are some other options you might consider.
GoCollect
GoCollect is probably the single largest competitor to GPAnalysis available today.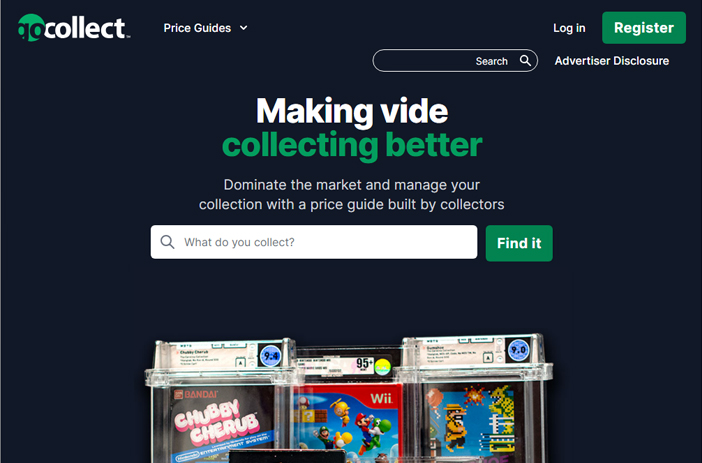 They have a few advantages over GPAnalysis, including:
Images. They have actual photos of the books bought and sold, when they're available.
Easier searching. GPAnalysis is a slower search system, whereas GoCollect lets you just plug in a name and number, and away you go.
Better collection management. It's just nicer to use in a lot of cases.
A wider range of collectibles. Not only do they do comics graded by other companies and ungraded comics, but they also do other collectibles, including video games, concert posters, and more.
The downsides are not to be ignored, though. One of the biggest is that GoCollect is kind of slow about updating. Some reports indicate their data can be a month or more behind, so rapidly-changing values aren't always reflected accurately.
GoCollect has a free version with limited access. Their paid plan is $9/month or $89/year, so a little bit cheaper than GPAnalysis. Some collectors even recommend using both.
MyComicShop
MCS is another price aggregator, with all sorts of print media, including magazines, in its database. It's all freely available, though you can sign up for an account to track a collection of your own. It's free to do so if you want.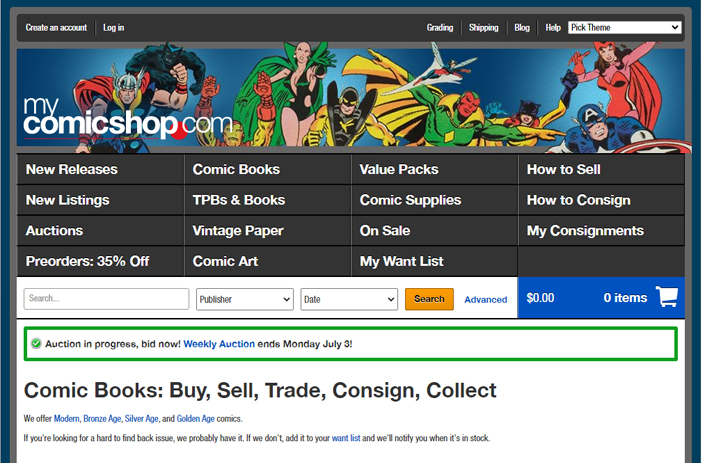 They also double as a platform to buy and sell through if that's something you're interested in.
Comic Book Realm
CBR is another highly recommended option, and it's completely free for most information they provide.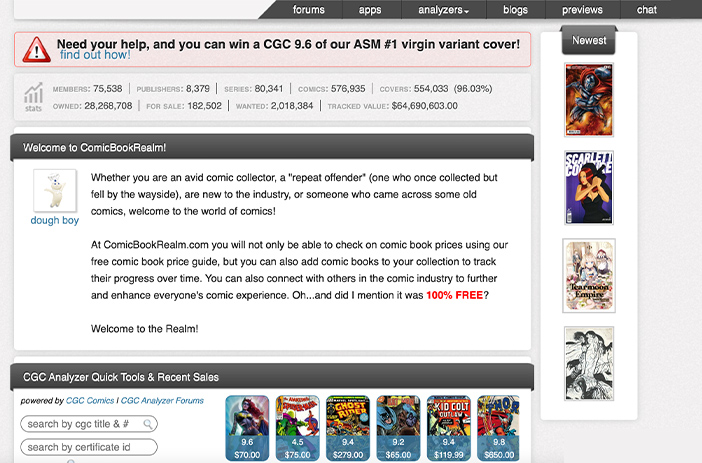 They have a paid CGC data lookup tool, a comics price guide, and even some phone apps you can use to help keep track of your collection and index the books you have or buy.
CovrPrice
CovrPrice is a more recent player in the comic pricing space. It's a lot slicker and better laid out than the other tools, but it doesn't have the same depth of pricing information.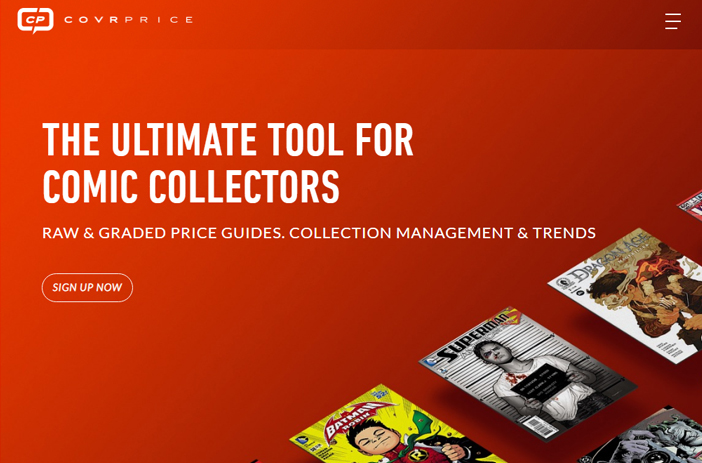 They have a free trial and two tiers of paid plans, one at $3 per month and one at $7 per month, the latter of which is unlimited. This one might be going places in a few more years, but for now, it mostly just has design going for it.
Quality Comix
Did you know that we have a comics price guide too? It's not a super market-comprehensive database with twenty years of information in it, but it is a large database of over 10,000 comics and information on the sales we've processed over the years. As one of the foremost dealers in high-end graded comics, we're uniquely positioned to aggregate relevant sales data and give it to you for free.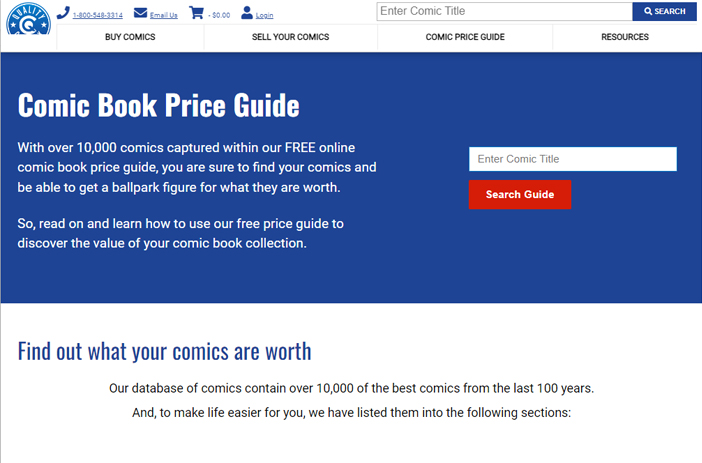 Of course, if you want a more personal touch and a nuanced appraisal, you can also click the big "sell your comics" link here or up above. It's a no-pressure, no-obligation form you can fill out to describe your collection, which we'll use to evaluate and appraise it for you. From there, you can decide if you want to sell your comics through us or take them elsewhere, with plenty of advice along the way. Whatever your collection contains, we'd love to see it! We're comic fans just like you, so putting our love of the hobby to work is a joy every time. And if you ever have any questions, either about comic books, GPAnalysis, or anything else comics-related, please feel free to let us know! We'll gladly help you out however we can.