Alongside the usual superhero, romance or science fiction comics, horror has long since been one of the most popular genres with readers.
If you love a comic book that instills a sense of uneasiness, fear or even terror, buckle up as we take you on a chilling ride through the best horror comics ever made.
Let's jump in!
1. Afterlife with Archie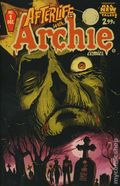 Key Comic Facts
Afterlife with Archie was first published in September 2013 by Archie Publications, and ended in October 2016. It was written by Roberto Aguirre Sacasa, with art by Francesco Francavilla. The series ran for 10 issues, released without any particular release pattern. Afterlife with Archie uses the nostalgia of Archie comics and the Riverdale gang with the twist of them being put to the test against supernatural beings.
What's the story?
Sabrina the Teenage Witch tries and succeeds in resurrecting Hot-Dog, Jughead's dog. But the spell sets off a chain of events that quickly brings zombies and other monsters to Riverdale.
2. Cat Eyed Boy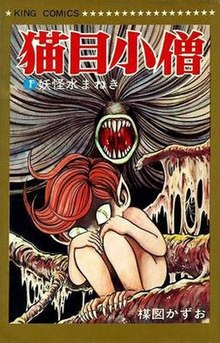 Key Comic Facts
Cat Eyed Boy was first published in December 1967 by the Japanese publisher Shōnen Gahōsha, with its last issue releasing in 1976. It was created by Kazuo Umezu, considered by many the godfather of horror manga.
The series was described to be somewhat similar to the Cheshire Cat, due to the fact that it was almost addictive. Readers sped right through every issue, always wanting more. The manga was also adapted into an anime series in 1976 and a live-action film in 2006. The manga has been noted for Umezu's grotesque style of Japanese horror storytelling and art, loved in Japan and in America as well.
What's the story?
The story follows the Cat Eyed Boy, who was kicked out of the Monster Society for being too human. The monster child now lives in the shadows and attics of the human world, and acting like a victim (and sometimes instigator) of supernatural threats to the families and neighborhood he tries to find refuge in.
3. The Drifting Classroom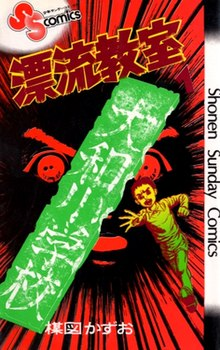 Key Comic Facts
Another one of Kazuo Umezu's greatest stories, The Drifting Classroom was first published in December 1972 by the Japanese publisher Shōnen Gahōsha, with its last issue releasing in 1974.
It was also adapted as a live action movie in 1987, and as a TV drama in 2002. The series once again proves that the most-dangerous animal in the world is men, as people pushed past their limits will do practically anything to survive.
What's the story?
The story follows the students and faculty of a Japanese high school, which one day is ripped away and transported to a charred wasteland, later revealed to be a future version of their own world. The adults and children start fighting each other, making alliances, and developing special abilities of their own to help them survive in a very hostile environment.
4. Black Hole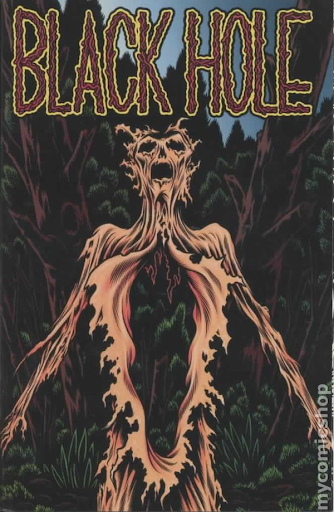 Key Comic Facts
Considered the best (and worst) in teenage angst, Black Hole was first published in March 1995 by Pantheon publications. It was finished in December 2004, after 12 horror-packed issues. It was created by Charles Burns.
It featured teenagers going through their toughest years, also trying to find a way to end a global plague. The series being featured in black and white helped to achieve that creepy finish the creators were aiming for.
What's the story?
Set in Seattle in the mid-70s, the series blends real-life ideas of alienation among teenagers with the sci-fi and horror of a mutant virus that affects your body. At the beginning of the series we meet teenagers Keith and Chris, who recently started suffering visions of a terrible plague causing mutations to its victims. The story follows them as they deal with the plague and its happenings.
5. Uzumaki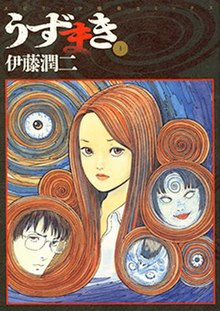 Key Comic Facts
Uzumaki proved that you don't need a big, terrifying monster to get scared. This Japanese horror manga series was written and illustrated by Junji Ito, with its chapters compiled into three bound volumes by Shogakukan and published from August 1998 to September 1999.
The series' particularly terrifying detail is the use of simple drawn spirals as means to feature body horror and ritual ceremonies. People couldn't read Uzumaki and then go back to simply doodling spirals on their notebooks.
What's the story?
The inhabitants of a small town became obsessed with the idea of spirals, and two teens get caught in the middle and can only watch in horror as the spiral fascination turns into obsession: their affected friends, neighbors, and family take the pull of the spiral to horrific lengths - twisting up objects, animals, and even their own bodies into increasingly horrific shapes.
6. Wytches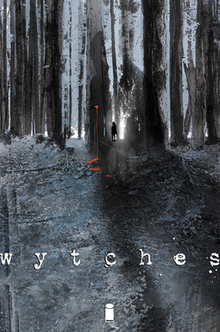 Key Comic Facts
Wytches was a six-issue limited series written by Scott Snyder and illustrated by Mark Simpson (a.k.a Jock). The horror-packed stories were released between October 2014 and March 2015, with one release per month. Some years ago, the rights to make a film were purchased by Plan B Entertainment, Brad Pitt's production company.
Wytches is a quintessential horror comic because it focuses the story on their monstrous twist on witches, while using those monsters to show the true evil of the humans: no one is completely immune from giving in to temptation - even a parent of a child in trouble.
What's the story?
The story follows a young family, as they relocate to a small town in New England, to try to give their daughter Sailor a second chance after some bad experiences in their hometown. But they discover that they've traded in one evil for another. They've moved into a town where the locals barter living people to mysterious entities living at the edge of town, in exchange for better health and better fortunes.
7. Something is Killing the Children

Key Comic Facts
Something is Killing the Children is an ongoing horror comic series. It was created by James Tynion IV and Werther Dell'Edera, and it's published monthly by Boom! Studios, beginning in September 2019. 24 issues have been released as of April 2022.
While the classic trope of monsters preying on children is present, the concept is inverted through a post-modern revenge story of 'final girl' all-grown-up Erica Slaughter.
What's the story?
A little town called Archer's Peak serves as hunting grounds for a pack of otherworldly monsters who have a taste for children. The plot thickens, as only children are able to see these monsters. When Erica Slaughter, a hunter of these beasts, comes to town boasting a no-nonsense manner to rout these beasts, she becomes an easy target for the town adults who are full of questions.
8. Arkham Asylum: A Serious House on Serious Earth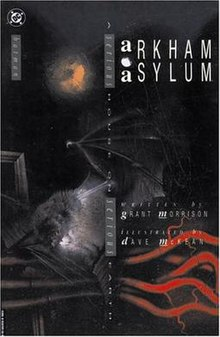 Key Comic Facts
Arkham Asylum: A Serious House on Serious Earth(commonly referred to as Batman: Arkham Asylum) is a Batman graphic novel, released in October 1989 written by Grant Morrison and illustrated by Dave McKean.
Morrison's narrative and McKean's artistic style were described as a more mature, unique, psychologically-driven and horror-oriented take on the Batman comics. The graphic novel would later become the definitive story and canon content of Arkham Asylum, a critical part of the Batman mythos. In 2008, the videogame Batman: Arkham Asylum was released and it is still played and highly regarded amongst fans.
What's the story?
The story is set as there's a riot underway at the prison/mental facility that houses many of Batman's rogue's gallery. Batman is called in to quell the situation, but he's drawn into a whirlwind series of one-on-one confrontations with his most iconic adversaries, such as Harley Quinn, Bane, and Poison Ivy, amongst others. All following a sinister plan created by none other than the Joker.
9. Victor Lavalle's Destroyer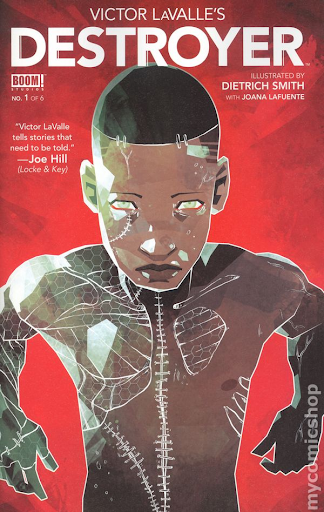 Key Comic Facts
Victor Lavalle's Destroyer is one of the greatest continuations of Mary Shelley's Frankenstein. It was created by Victor Lavalle and artist Dietrich Smith. It was a six-issue limited series, released between May 2017 and October 2017.
Destroyer is regarded as a very scary story due to all of its fantastical science and imagination, and an abysmal idea of humanity which puts a higher value on the body parts turned into a man (Frankenstein's Monster) than a 12-year-old boy killed only for the color of his skin.
What's the story?
The story follows a scientist who is a descendent of the Frankenstein family. She invokes her ancestors' arcane practices to try and resurrect her son (a 12-year-old black boy murdered by Police). As the original Frankenstein's Monster enters the scenario, the contrast between how some people value his life versus that of a dead child becomes the heart of this horror, sci-fi packed story.
10. Gideon Falls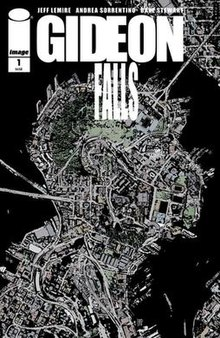 Key Comic Facts
Gideon Falls is an American horror comic book series. It was created by writer Jeff Lemire and artist Andrea Sorrentino, and it was published by Image Comics between March 2018 and December 2020, releasing 27 issues between these dates. In the words of Jeff Lemire himself, he set out to create "an intelligent horror story, not one driven by gore, but by exploring the nature of evil".
Gideon Falls excels in bringing out some real terror from a haunting but meme-able idea: for example, a black barn that appears suddenly and dissapears just as suddenly, bringing a bad omen and terrors to the town it appears on.
What's the story?
Gideon Falls' story follows a town that lost its resident Catholic priest, and his washed-up replacement is running a little short on faith. The crisis of faith in the town declines further when a black barn appears out of nowhere, reviving rumors about similar black barns materializing as a portent for bad times ahead. Spoiler alert: the rumors are true.
11. Aliens: Dead Orbit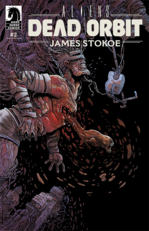 Key Comic Facts
Aliens: Dead Orbit is an American horror comic book series, released by Dark Horse Comics as a 4-issue limited story between April 2017 and December 2017. It was written by James Stokoe.
Though this miniseries is built upon one of the most iconic horror franchises in film history, it builds on its foundation by imposing a sheer sense of scale and futility.
What's the story?
After a horrific accident strikes a space station, one living engineering officer must use all available tools and ideas to survive an attack from deadly creatures from space. After escaping battling some of them, he faces the biggest challenge of them all.
12. American Vampire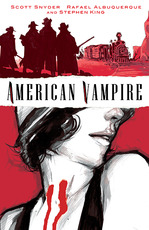 Key Comic Facts
American Vampire is an American comic book series created by writer Scott Snyder and artist Rafael Albuquerque. It was published by DC Comics under its Vertigo imprint, and under DC Black Label, after Vertigo was closed in January 2020. The first issue came out in March 2010 and 34 total issues have been released since. The series is still being published in the present.
This series brings back the vampire stories about them being sinister predators, instead of focusing on a brooding romantic story. And they're some pretty terrifying stories, by the way.
What's the story?
The series follows a new American bloodline of vampires, born in the American West in the late 19th century. The first of this new species is an outlaw called Skinner Sweet, who wakes after being infected and realizes he's a whole new kind of vampire, stronger and faster than what came before, completely impervious to sunlight, and with a new set of strengths and weaknesses.
13. Babyteeth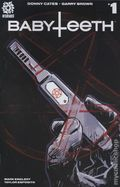 Key Comic Facts
Babyteeth will make you think twice about having a baby. This horror series was created by writer Donny Cates and artist Garry Brown, and was published by Aftershock Comics between June 2017 and September 2021, spanning 20 issues.
Babyteeth took a progressive twist on the template laid by Rosemary's Baby, The Omen and House of the Devil. As sex has been related to doom in the horror template, it kinda strikes a strong argument that the genre is Christian propaganda, maybe intentionally or not. Either way, a woman taking pride and responsibility for her heresy was a refreshing revolution in the horror genre.
What's the story?
The story follows 16-year-old girl Sadie Ritter, who is nine months pregnant, and scared of her own sweet nerdy mind. At least she has the support of her family. But the bad news begins when we discover that her baby is the antichrist and it's going to break open the barriers between the earthly and demonic beings, unleashing eternal suffering to all of humankind.
14. Beasts of Burden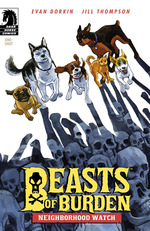 Key Comic Facts
Beasts of Burden proves that cuteness doesn't matter when we're talking about loss, death, tragedy and horror. The series was written by Evan Dorkin, and drawn by artists Jill Thompson and Benjamin Dewey. It consists of four books, released between September 2009 and December 2009.
Still got some feelings from Old Yeller? Prepare to open some unhealed wounds.
What's the story?
Beasts of Burden follows the "Wise Dog Society," a band of dogs (and one cat) who protect Burden Hill from evil beings surrounding the town. A bizarre disturbance leads the team on a goose chase into the forest, and you can't imagine what happens in the woods.
15. The Beauty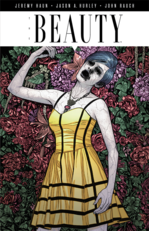 Key Comic Facts
The Beauty is an Image Comics series released between August 2015 and October/November 2019. It was written by Jeremy Haun and Jason A. Hurley, with the art also by Jeremy Haun.
The series requires a certain mindset to accept its core concept: that there's an STD that makes you hot overnight. But if you're willing to look past that, the series is perfect for police-thriller story fans.
What's the story?
The story is set in a modern world, where society is obsessed with outward beauty. And suddenly, a new STD appears, which makes people look more beautiful every day, making physical perfection something real. Of course, a large majority of the people take advantage of it. But soon enough, two detectives discover that beauty comes at a terrible price.
16. The Black Monday Murders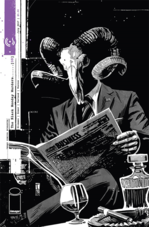 Key Comic Facts
The Black Monday Murders was a horror comic series released by Image Comics in August 2016. It spanned eight issues, all written by Jonathan Hickman and penciled/inked by Tomm Coker.
In general and pop culture, the devil has traditionally been the lord of the deal, trading in souls and the like. However, this series embraces the larger framework of stocks and finances in general, involving the goat-skull headed demon lord.
What's the story?
The series takes place after the stock market crash of 1987, commonly known as Black Monday. A group of elite financiers made a blood pact with a god in exchange for power and wealth, but they definitely should've thought twice before making unbreakable deals with unearthly creatures. A second narrative follows an NYPD detective as he unravels the secrets of magic deep in the heart of the global financial market.
17. B.P.R.D. Hell on Earth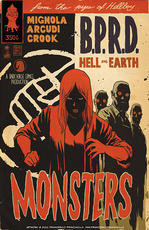 Key Comic Facts
B.P.R.D. Hell on Earth was the second cycle in the B.P.R.D series, after Plague of Frogs. The first part of Vol. 1 was published in August 2011, with monthly publications until November 2016. It was written by Mike Mignola and John Arcudi.
Being a red demon with a stone hand, Hellboy comes up a little short when talking about horror comics. But the universe that emerged from the comics is worth noticing. The all-too-human members of the B.P.R.D. face mortality with much greater frequency, and these comics include some amazing stories worth reading.
What's the story?
The series follows the adventures of the Bureau for Paranormal Research and Defence, which began as an experiment to see if the Hellboy Universe could be expanded with stories without Hellboy in them. It actually grew successfully, and stories derived from the Hellboy comics are still being explored today.
18. Chilling Adventures of Sabrina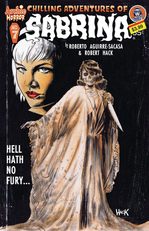 Key Comic Facts
The Chilling Adventures of Sabrina was first published in October 2014 by Archie Horror, an imprint of Archie Comics, and continues to be produced today. The series is a darker take on the characters of Sabrina the Teenage Witch. It is written by Roberto Aguirre-Sacasa, with art by Robert Hack, and is inspired by the appearances of Sabrina in Aguirre-Sacasa's other Archie series, Afterlife with Archie.
What's the story?
Volume 1: The Crucible (issues 1–5)
Half-witch Sabrina lives with her witch aunts, her cousin and her feline familiar in the town of Greendale. Nearing her sixteenth birthday, she must choose whether to become a full witch or pursue a mortal life with her boyfriend, Harvey Kinkle.
Volume 2: Witch-War (issues 6– )
Sabrina's father, Edward Spellman, is mysteriously back among the living, masquerading as a resurrected Harvey. Sabrina's aunts warn her about the consequences of necromancy, but Sabrina protects "Harvey" against their attempts to send him back to the grave. Edward begins to wonder who could've helped Sabrina engage in such powerful magic.
19. Clean Room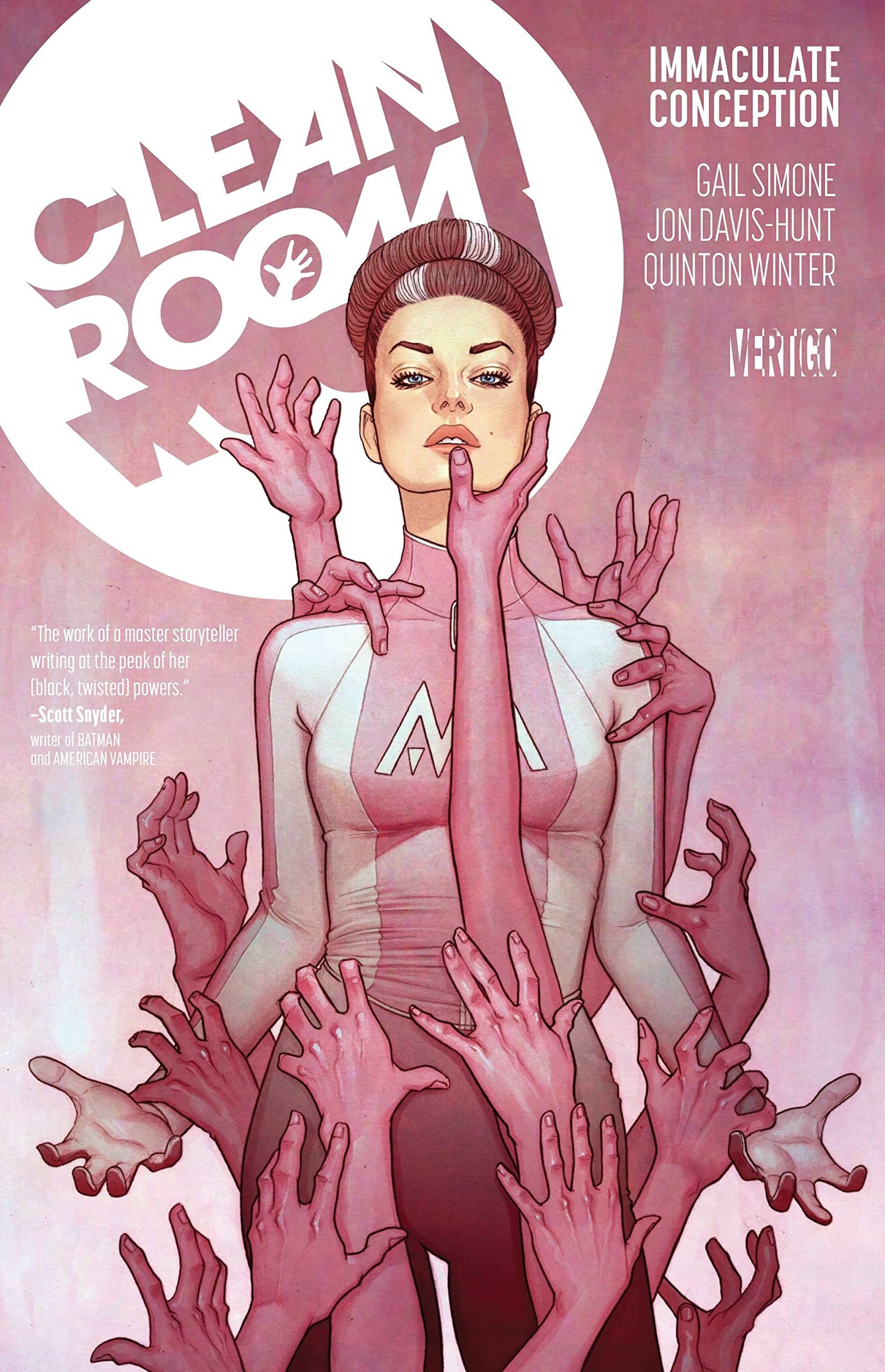 Key Comic Facts
Artist John Davis-Hunt and colorist Quinton Winter worked together to bring Clean Room, a horror series published by DC Comics under its Vertigo publisher. It was published as a 3-series limited comic series between June 2016 and July 2017, releasing one book every six months.
What's the story?
The story introduces us to Astrid Mueller, the enigmatic leader of a giant self-help organization. A journalist named Chloe Pierce suffered a loss; her fiancé committed suicide after reading Astrid's book. Now Chloe is determined to find out who Astrid Mueller really is, and to unravel the secrets of the Clean Room, a place where your darkest secrets are revealed.
20. Delphine

Key Comic Facts
Delphine is a horror series that first saw the light in November 2006. It was a 4-issue limited series, published by Fantagraphics and written by Richard Sala.
Everything, from the drawing to the stories, are bound to give you more than goose-bumps. At the beginning, you might remember Snow White. But don't worry, the story gets very different real soon.
What's the story?
The story follows a mysterious traveler arriving at a small village surrounded by a thick, sinister forest. He is searching for Delphine, a girl who vanished leaving only an address on a scrap of paper. As he sinks deeper into nightmare territory, he starts realizing his quest might be a little bit too hard to finish.


If scary is your thing, choose any of these horror comics for your next spine-chilling adventure and you won't be disappointed! You can find interesting facts about hundreds of horror comics throughout the Quality Comix website, or use our handy price guides if you're looking to sell any of your collection, or add to it!