Disclaimer:
When you click on link title "Check Live eBay Prices Here" on this site and make a purchase, this can result in this site earning a commission. Affiliate programs and affiliations include the eBay Partner Network. Check our Privacy Policy for more information.
Underworld Crime
Fawcett // June 1952 - June 1953
Issue count: 7
Over the years, we have seen a spike in the prices of pre code crime comic books. Let alone a pre code crime comic book series published by the infamous "Fawcett". Underworld Crime is loved by many.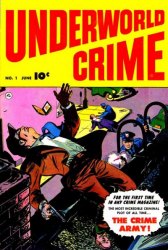 Underworld crime was published by "Fawcett Publications" in the Golden age of comic book. Considering the repute of the publication house, Fawcett is best known for their character "Captain Marvel". No one really thinks of Fawcett when it comes to crime comic books of the Golden Age but they still managed to produce one of the most popular crime comic issues of that era. The artist Edd Ashe, Jr did a remarkable job in creating quite intimidating covers which were colored in such a gruesome manner that they stand out in the peak of Pre-Code era. Underworld Crime is not only a series but also marks the end of "Fawcett". After releasing the Underworld Crime #7, Fawcett decided to exit the comic book business which marks this as the final comic that Fawcett has ever produced.
Read More
Looking to sell your comic books?
Browse our selection of key issues from Underworld Crime below to get an instant estimate of their value.
We have been buying and selling for 20 years and have tons of experience working with sellers just like you!