Disclaimer:
When you click on link title "Check Live eBay Prices Here" on this site and make a purchase, this can result in this site earning a commission. Affiliate programs and affiliations include the eBay Partner Network. Check our Privacy Policy for more information.
Two-Gun Kid
Marvel // March 1948 - April 1977
Issue count: 136
One of Marvel's only- and best - long running western series was a carry-over from the "Atlas" era.They re-booted the title as a quasi-hero book with #60.Atlas copies are rare, and demanding higher prices! Check your collection and use our price guide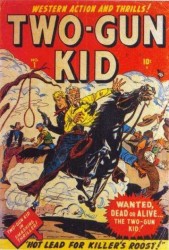 Clay Harder, the "Original" Two-Gun Kid, was introduced in a 1948 comic from Marvel predecessor Timely Comics. Clay Harder has bright blond hair and wears an all-black suit with a placard shirt, a broad-brimmed black hat. He packs two long-barreled revolvers with individual overlapping gun belts.
Given his own title,Two-Gun Kid #1 came out in 1948, He was Timely/ Marvel's second continuing Western character, following the Masked Raider, who had only appeared in anthology titles(Marvel Mystery Comics, etc.). Nevertheless, Two-Gun Kid was the company's first ongoing Western title running 10 issues.
The character then moved to the post-Timely, pre-Marvel, Atlas Comics.
Beginning in 1953, Atlas/Marvel continued the original Two-Gun Kid series from issue #11,. The Harder version appeared sporadically through 1962, with ace Silver-Age inker Joe Sinnott being the last artist to draw the original Two-Gun Kid on a regular basis.
The series titled Two-Gun Kid ran in two parts, from 1948–1949 and then from 1953–1977.
the Clay Harder Kid enjoyed a 14-year span in comics, and the Timely and Atlas versions enojoyed not only scripts by Stan Lee (often uncredited, he also edited the book) some wonderful artwork by real pros, achieving an "all hands on deck" -type of vibe. Some contributors that made this title consistently high-quality were Syd Shores, Vince Alascia, Russ Heath, Gene Colon, John Severin, George Tuska, Doug Wildey, Fred Kida, Bob Fujitani,Dick Ayers, Jack Keller,Joe Maneely, Chuck Miller, and Mort Drucker!
In Two-Gun Kid #60 (Nov. 1962), The Clay Harder version, was phased out, inspireing the second Two-Gun Kid, Matt Hawk
The second, Matt Hawk was introduced in 1962 and has continued into the 2010s. Stan Lee and Jack Kirby, creators of the Fantastic Four, concocted the new Kid to make the character resemble a superhero with a secret identity, in order to stimulate sales for the title.
The latter Kid is better known, thanks primarily to his connection with, and later full integration into, Marvel Comics' shared continuity, known as the Marvel Universe.
From issue #93 (July 1970) on, Two-Gun Kid was mostly a reprint title. At one point later in the second series, some of the original Kid's adventures were retouched to make him look like the newer Kid for reprints!
A top-notch book, mostly the Timely and Atlas issues are sought by collectors, and do carry some value in the market!
Read More
Looking to sell your comic books?
Browse our selection of key issues from Two-Gun Kid below to get an instant estimate of their value.
We have been buying and selling for 20 years and have tons of experience working with sellers just like you!