Disclaimer:
When you click on link title "Check Live eBay Prices Here" on this site and make a purchase, this can result in this site earning a commission. Affiliate programs and affiliations include the eBay Partner Network. Check our Privacy Policy for more information.
Tales To Astonish
Marvel // January 1959 - March 1968
Issue count: 101
A Marvel monster book that changed direction as superheroes became popular. Issue #27 gave us Henry Pym, who became ANT-MAN, the star of the book. Then came GIANT MAN, and THE HULK and SUB MARINER. This book's key issues still demand top dollar!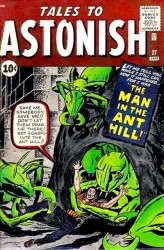 Tales To Astonish was another title which began its run just before Marvel would revolutionize and reinvent the superhero genre.
Beginning life in 1959 as essentially a monster/sci-fi title,and drawing upon a stable of talented writers and artists that would become known as the "bullpen" (Larry Lieber, Joe Sinnott, Jack Kirby, Steve Ditko, Dick Ayers, Don Heck - and of course Stan Lee), Astonished continued in this vein until issue #35, when superhero and future Avenger, ANT-MAN was formally introduced as the lead and cover feature.
As an aside, issue #27 introduced the character Henry Pym, a scientist who discovered a way to shrink himself down to insect-size in a story titled "The Man In The Ant Hill." This was the prototype idea which led to the creation of Ant-Man, Henry Pym's alter-ego. This is a very valuable book for collectors, as it appeared almost a year before Pym transformed into a superhero!
Ant-Man retained the lead spot in the book (along with his girlfriend/future wife Janet Van Dyne as his sidekick, The Wasp debuting in issue # 44). Eventually, Marvel decided to have Pym reverse the process, transforming into GIANT MAN in issue #49!
Proving themselves as the leader in the superhero revival, Marvel would phase out the monster/suspense co-features and elect to co-feature another hero, which in this case would be none other than The Incredible Hulk! Fresh off of his own title, which only lasted 6 issues, Marvel relegated him to co-feature status in Astonish beginning with issue #60.
Giant Man and Hulk would continue as the stars of the title until issue #70, at which point Giant Man was jettisoned in favor of the long-time beloved anti-hero THE SUB-MARINER!
Created by Bill Everett in 1939 for the then-called "Timely Comics" (becoming Marvel later), the character was put on hiatus until 1962 in Fantastic Four #4, when he was resurrected after Johnny Storm found him in a down and out Bowery flophouse, bearded, and suffering from amnesia. All it took was for Johnny (the "new" Human Torch) to drop him into the ocean for him to regain his memory - and suddenly, returning to the initial character concept, the original bitter, arrogant, human-hating Sub-Mariner was back!
From here, he made great trade by appearing in the books of, and subsequently coming up against and doing battle with, virtually every hero in the Marvel canon!
So popular, Subby demanded his own solo feature, so they brought him into the Tales To Astonish fold.
This particular duo continued sharing the book until the end of its run in March 1968 with issue #101. Both characters would almost immediately go on to their own titles respectively.
All of the pre-hero books are highly collectible and valuable, especially the aforementioned #27, along with most of the Ant/Giant Man issues. Another issue of notable value is #93, which features a Silver Surfer cameo (always collectible!)
Read More
Looking to sell your comic books?
Browse our selection of key issues from Tales To Astonish below to get an instant estimate of their value.
We have been buying and selling for 20 years and have tons of experience working with sellers just like you!