Disclaimer:
When you click on link title "Check Live eBay Prices Here" on this site and make a purchase, this can result in this site earning a commission. Affiliate programs and affiliations include the eBay Partner Network. Check our Privacy Policy for more information.
Tales Of The Unexpected
DC Comics // February-March 1956 - December 1967-January 1968
Issue count: 104
Tales of the Unexpected had a pretty decent run as it ran through a total of more than 104 issues. The fact that it belongs to DC Comics, this comic book is quite sought after among DC silver age collector from all over the globe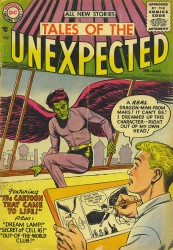 Tales of the Unexpected was a fantasy and science fiction horror series published by DC Comics from 1956 to 1968. This series featured the artwork many famous artists such as Murphy Anderson, Gil Kane, and many other. This series ran through a total of 104 issues that featured a variety of science fiction/horror stories. Tales of the Unexpected has around 104 issues and it was later shortened as "The Unexpected" which ran through #222 issues until DC decided to end it in 1982.
Later on, DC decided to revive the Tales of the Enexpected for an eight issues mini series in 2006. In the miniseries, DC mainly focused on the Cripus Allen incantation of the Spectre.
Read More
Looking to sell your comic books?
Browse our selection of key issues from Tales Of The Unexpected below to get an instant estimate of their value.
We have been buying and selling for 20 years and have tons of experience working with sellers just like you!