Disclaimer:
When you click on link title "Check Live eBay Prices Here" on this site and make a purchase, this can result in this site earning a commission. Affiliate programs and affiliations include the eBay Partner Network. Check our Privacy Policy for more information.
Suspense
Atlas // December 1949 - April 1953
Issue count: 29
A top-notch entry into the horror/supernatural genre from Atlas! The company was at the height of their creative prowess, often using creative teams that would later find stardom at Marvel! Collectors seek these books for their high quality!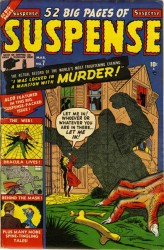 It took a little bit of time for Atlas Comics (formerly Timely Comics, later Marvel Comics) to find their footing in the 1950's as far as the creative direction in which they wanted the company to go.
Martin Goodman's Timely Comics had, by 1949, ceased publication of almost all of it's superhero books that had brought it such good fortune from 1939 through the end of the Second World War. Captain America, the Human Torch and The Sub-Mariner were fading from public consciousness, and the whole comic book business was turned on its head; it seems America did not need heroes in their comics, they had them in their homes in the men and women that had come back after the big war…
One may think that tastes would have veered towards the more fanciful, for the country had had enough of the death and dying. But no - the flavor of the day was moving towards the darker subjects of everyday criminals, monsters, and unexplained phenomenon.

Perhaps this turnabout in content could be explained as simply being a reflection of the collective national fatigue of war, and the uncertainty and paranoia of facing a future in a post-atomic-bomb world.
In 1949, Atlas Comics came out with Suspense, a 52-page bi-monthly supernatural/horror comic book. For the first 11 issues, the book seemed to be attached to or endorsed by a CBS Radio and Television series of the same name (Suspense ran on CBS radio from 1942 to 1962, and its companion TV series was on the air between 1949 and1954). The association appears to have ended beginning with issue #12.
Atlas was really starting to cook on all burners at this time - with the death of the superhero, they jumped into the horror genre with both feet.
This title differs from other Atlas comics which were introduced later in that they relied heavily on mostly journeymen and freelance talent for Suspense's content. Whereas later in the 50's, one starts seeing very familiar names from the forthcoming change to Marvel Comics in the credits.
Suspense outsourced material from the likes of such veterans as Russ Heath, Pete Morisi, Murphy Anderson, Ogden Whitney, Bob Fujitani, Manny Stallman, Allen Bellman, Jay Scott Pike, Tony DiPrita, Carl Wessler, Ed Winiarski, Dick Briefer, Bernie Krigstein, Jerry Robinson and many, many others.
Still, a few rising Marvel stars do emerge from time to time, like Sol Brodsky (future Marvel Editor), a young Gene Colan, Jim Mooney, Dick Ayers, Bill Everett and Joe Maneely.
Atlas put out so many comic books in this genre around this period, it's hard to keep up without a scorecard (as they say). The steadying force that kept the ship afloat in terms of quality was the still-young Stan Lee, who edited virtually every Atlas book, and contributed original stories to many of them, to boot!
Collectors have started to seek out "pre-code" horror/supernatural comics to a greater degree in the last several years, and Suspense is not a bad book with which to start your own collection!
Read More
Looking to sell your comic books?
Browse our selection of key issues from Suspense below to get an instant estimate of their value.
We have been buying and selling for 20 years and have tons of experience working with sellers just like you!