Disclaimer:
When you click on link title "Check Live eBay Prices Here" on this site and make a purchase, this can result in this site earning a commission. Affiliate programs and affiliations include the eBay Partner Network. Check our Privacy Policy for more information.
Suspense Comics
Continental // December 1943 - September 1946
Issue count: 12
Continental set the horror comic pace in the mid 40's with Suspense. Some of the earliest of the genre! Get an idea of what these obscure finds may be worth with Quality's free price guide.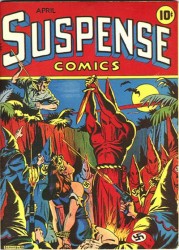 Publishing was a very complicated game in the early 20th Century. Perhaps nobody knew this better than Frank Temerson. His was a long road to becoming a publisher of comic books.
Born in Warsaw, Poland, his family moved to the United States when he was only 2 years old. They settled in, of all places, Birmingham, Alabama. When Frank was of age, he attended law school in Tennessee. Although never passing the bar, he established a law practice in Birmingham for two years before relocating to Detroit. He was then drafted and served in WWI.
Upon his return he started a printing and distribution company with an old friend as his partner - this was when Pulp Magazines were really taking off.
In the 30's, they relocated operations to New York City and established a small company, named Ultem, which produced mostly movie magazines. It started to become obvious to Frank that the comic book biz may be lucrative, and went about acquiring titles from the now-fabled Harry A. Chesler Studios. Ultem was bought out in 1939 by Centaur Publications.
Striking out on his own, he started Helnit Publications, which was responsible for releasing Green Hornet Comics, Captain Aero Comics and Cat-Man Comics.Then rival publisher Holyoke came along and bought those titles, of which they resumed publication until Temerson formed his NEW company, Et-Es-Go Publications, and re-acquired those titles from Holyoke, which he started putting out under the new name Continental Magazines.
During this period he decided to put out a few brand new titles, and in late 1943, Continental debuted Suspense Comics.
Suspense Comics was important for a couple of reasons. First, although only running for 12 issues through late 1946, this was one of the first titles to be solely dedicated to supernatural/horror stories from cover to cover. This was somewhat a case of trend-forecasting by Temerson, as this would become one of the dominant genres after the superhero boom of the early to mid 1940s.
Second, Temerson made the smart business decision of hiring gifted illustrator L.B. Cole as his Art-Director for the title. Cole had started his own freelance studio in 1942, and, in addition to contributing some amazingly eye-popping covers for Suspense, utilized many of his regular staffers to provide content for the title. Any given issue of Suspense may include interiors by gifted craftsmen as Charles Quinlan, Rudy Palais, John Giunta, Nina Albright, Bob Fujitani, Tony DiPreta, Don Rico, George Appel, Manny Stallman, Lou Ferstadt and Cole himself. Even legendary cover artist Alex Schomburg contributed one of the only covers not by Cole for Issue #3, which depicts a cult of hooded nazis performing a ritualistic human sacrifice of a lovely gal bound to a stake.
This kind of content was typical of Suspense Comics, which features female bondage quite liberally on more than half of its 12 issues' covers. Images as these would become more and more popular towards the late 40's and early-mid 50's.
As suggested before, Suspense Comics was a bit of an anomaly at a time when Superman and Captain America ruled the newstands, making all 12 issues very valuable and scarce. Check what's out there by following the links on Quality Comix's online price guide!
Read More
Looking to sell your comic books?
Browse our selection of key issues from Suspense Comics below to get an instant estimate of their value.
We have been buying and selling for 20 years and have tons of experience working with sellers just like you!