Disclaimer:
When you click on link title "Check Live eBay Prices Here" on this site and make a purchase, this can result in this site earning a commission. Affiliate programs and affiliations include the eBay Partner Network. Check our Privacy Policy for more information.
Superman's Pal, Jimmy Olsen
DC Comics // September - October 1954 - February - March 1974
Issue count: 163
After Superboy, Jimmy Olsen was the next Superman supporting character to be given his own comic. Often whimsical, there are plenty of cameos from The Big Guy himself! Things got weird when Jimmy entered Kirby's "Fourth World" storyline. Early issues =$$$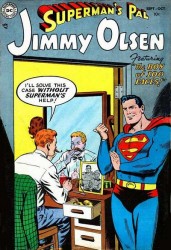 Ever wonder how Jimmy Olsen spends his time away from The Daily Planet and Superman? Me Neither. However, it turns out that he does get into many a fracas and odd situatons that Supes often needs to help out with resolving!
That said, DC rolled out SPJO, obviously for cash-in purposes, in 1954, and it ran for damned-near 20 years! Seems there was more interest than one would think!
The most interesting issues were #133 - #145, when, inconceivably, Jimmy was drawn into Jack Kirby's "Fourth World" storyline ( at the same time ressurecting Kirby's 40's triumph The Guardian)!
Completist Superman collectors snatch these up, and some will fetch good value!
Read More
Looking to sell your comic books?
Browse our selection of key issues from Superman's Pal, Jimmy Olsen below to get an instant estimate of their value.
We have been buying and selling for 20 years and have tons of experience working with sellers just like you!