Disclaimer:
When you click on link title "Check Live eBay Prices Here" on this site and make a purchase, this can result in this site earning a commission. Affiliate programs and affiliations include the eBay Partner Network. Check our Privacy Policy for more information.
Strange Terrors
St. John // June 1952 - March 1953
Issue count: 7
Strange Terrors is a pre code Golden Age Horror series published in 1952. This series has 7 issues that feature uncensored Gore and Gitty Horror stories.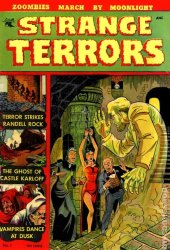 Strange Terrors is a Golden Age Pre Code Horror series that was published by St. John Publications back in June 1952. This series ran a total of 7 issues from June 1952 to March 1953. Strange terrors features the story of the "Ghost of Castle Karloff". Mainly becuase this series is Golden Age Pre-Code, it features art that is beyond modern day restrictions which makes it much more sort after among Horror comic book collectors out there.
Read More
Looking to sell your comic books?
Browse our selection of key issues from Strange Terrors below to get an instant estimate of their value.
We have been buying and selling for 20 years and have tons of experience working with sellers just like you!