Disclaimer:
When you click on link title "Check Live eBay Prices Here" on this site and make a purchase, this can result in this site earning a commission. Affiliate programs and affiliations include the eBay Partner Network. Check our Privacy Policy for more information.
Star Wars: Jedi vs. Sith
Dark Horse // April - September 2001
Issue count: 6
The Infamous battle ignites between the Jedi and The Sith which leads to destruction in thee Galaxy.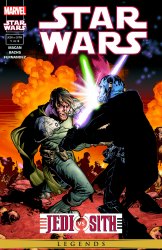 Star Wars: Jedi vs Sith is modern age comic book series based on the infamous Star Wars Saga. This series was published by Dark Horse Comics from April 2001 to September 2001. Star Wars: Jedi And Sith was based on six issues featuring the battle of Ruusan, which winds up the War between the Jedi warriors and the Sith. This comic book series also features the First appearance of the Darth Bane who reforms the infamous One Master One Apprentice structure.
Read More
Looking to sell your comic books?
Browse our selection of key issues from Star Wars: Jedi vs. Sith below to get an instant estimate of their value.
We have been buying and selling for 20 years and have tons of experience working with sellers just like you!