Disclaimer:
When you click on link title "Check Live eBay Prices Here" on this site and make a purchase, this can result in this site earning a commission. Affiliate programs and affiliations include the eBay Partner Network. Check our Privacy Policy for more information.
Spellbound
Atlas // March 1952 - June 1957
Issue count: 34
Atlas Comics was so prolific in their offerings of supernatural & horror titles in the 50's. They continued to lay the solid foundation on which the Marvel empire would be founded later in the decade. Very collectible - see what the recent prices are here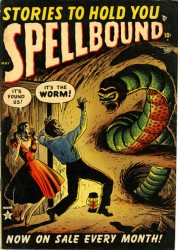 It took a little bit of time for Atlas Comics (formerly Timely Comics) to find their footing in the 1950's as far as the creative direction in which they wanted the company to go.
Martin Goodman's Timely Comics had, by 1949, ceased publication of almost all of it's superhero books that had brought it such good fortune from 1939 through the end of the Second World War. Captain America, the Human Torch and The Sub-Mariner were fading from public consciousness, and the whole comic book business was turned on its head; it seems America did not need heroes in their comics, they had them in their homes in the men and women that had come back after the big war…
One may think that tastes would have veered towards the more fanciful, for the country had had enough of the death and dying. But no - the flavor of the day was moving towards the darker subjects of everyday criminals, monsters, and unexplained phenomenon.
Perhaps this turnabout in content could be explained as simply being a reflection of the collective national fatigue of war, and the uncertainty and paranoia of facing a future in a post-atomic-bomb world.
Monsters of unexplained origin, scenarios of invasions from alien beings resonated more as the threat of global communist-domination was repeatedly heralded in the daily news.
In March of 1952, Atlas offered up another in their horror/suspense line (Stories To Hold You) Spellbound. This one was definitely more in the suspense-supernatural vein - and, dare we say, with a more light hearted tone. Atlas had a sense of humor, especially Stan Lee, who wrote and edited most of this title.
Sure, it had its share of graphic images on the covers; a young couple in a cavern being attacked by a seemingly hungry giant worm, a woman who has pulled her head off and is holding it in her lap while cheerfully greeting her husband as he comes home from work, a prisoner chiseling his way through a prison wall unaware of the undead ghoul on the other side that is waiting to bury him alive in a wooden coffin, a man sitting on a park bench with his date that happens to be a rotting corpse, a den of zombie-ghouls holding a raffle to see which one wins the honor of torturing/killing/eating a man that is tied up and suspended by the ceiling and being forced to watch the proceedings… see? Pretty dark humored stuff compared to other horror books - no blood dripping axes or exploding faces.
The artists? Oh the usual Atlas cast of Timely holdovers, expert journeymen freelancers and promising up-and-comers - like Dick Ayers, George Roussos, Bill Everett, Russ Heath, Ogden Whitney,, Manny Stallman, Joe Sinnott, Jim Mooney, Mike Sekowsky, Bernie Krigstein, Joe Maneely, Carl Burgos, Jack Abel, John Romita, Joe Orlando, Bob Brown, Carmine Infantino, Gene Colan, Bob Powell, Steve Ditko, Doug Wildey, Al Williamson and many others…
These Atlas books are really desirable because of the high-quality of the content, and their scarceness in the market. Now is a good time to start your pre-code horror collection, and Spellbound is not a bad place to start!
Read More
Looking to sell your comic books?
Browse our selection of key issues from Spellbound below to get an instant estimate of their value.
We have been buying and selling for 20 years and have tons of experience working with sellers just like you!