Disclaimer:
When you click on link title "Check Live eBay Prices Here" on this site and make a purchase, this can result in this site earning a commission. Affiliate programs and affiliations include the eBay Partner Network. Check our Privacy Policy for more information.
Speed Comics
Harvey // October 1939 - January-February 1947
Issue count: 33
An anthology super hero comic of the Golden Age!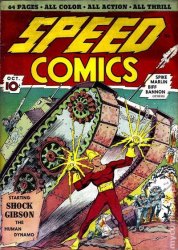 1939 saw the debut of one the earliest heroes at the start of the initial super hero boom of the Golden Age of comics in the very first issue of Speed Comics. The hero was Shock Gibson practically leaping off the cover holding a tank over his head. Speed Comics was produced by Brookwood Publication, a company later acquired by Harvey Comics. The first issue contained the origin of Shock Gibson in the story, "The Human Dynamo" Robert Charles Gibson was a scientist who created a chemical formula that grants the ability to store, generate, and control electricity. After testing it on himself he finds that it increased his strength, gives him the power to fire bolts of lightning, and grants him the power to fly. What followed was 44 issues of Shock Gibson and other heroes such as Captain Freedom, Black Cat, Blonded Boomer, and others.
Read More
Looking to sell your comic books?
Browse our selection of key issues from Speed Comics below to get an instant estimate of their value.
We have been buying and selling for 20 years and have tons of experience working with sellers just like you!