Disclaimer:
When you click on link title "Check Live eBay Prices Here" on this site and make a purchase, this can result in this site earning a commission. Affiliate programs and affiliations include the eBay Partner Network. Check our Privacy Policy for more information.
Showcase
DC Comics // March-April 1956 - September 1978
Issue count: 104
DC's Showcase was their premier title for introducing & re-introducing new characters in the 50's & 60's;FLASH, GREEN LANTERN, AQUAMAN, THE ATOM, THE CREEPER all emerged or re-emerged here! These key issues are very collectible!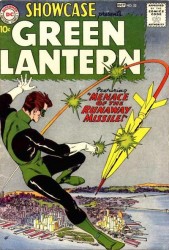 DC's Showcase was a very important comic book. Primarily used for introducing new characters and re-booting ones that had been popular in the 40's, Showcase rolled-out a who's-who of heroes that would come to dominate the 60's market for the company!
Within these pages we saw the introduction or re-introduction of new incarnations of : The Flash, The Challengers of The Unknown, Adam Strange, Green Lantern, Aquaman, The Atom, The Teen Titans, The Creeper, and The Hawk & The Dove!
...pretty impressive lineup, yes?
It's debatable, but Showcase probably contributed, to no small-affect, to the resurgance of the superhero comic book that lasts up to present!
Needless to say, the first-appearance issues are the most valuable on the collectors market, but others are very collectible, also!
Contact Quality comics if you have any of these issues -we will be glad to appraise them!
Read More
Looking to sell your comic books?
Browse our selection of key issues from Showcase below to get an instant estimate of their value.
We have been buying and selling for 20 years and have tons of experience working with sellers just like you!