Disclaimer:
When you click on link title "Check Live eBay Prices Here" on this site and make a purchase, this can result in this site earning a commission. Affiliate programs and affiliations include the eBay Partner Network. Check our Privacy Policy for more information.
Sea Devils
DC Comics // September/October 1961 - May/June 1967
Issue count: 35
1960s Deep Sea Adventure Stories From DC Comics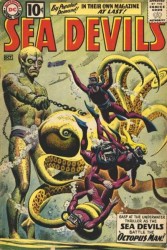 Sea Devils was a DC comic from the 1960s. It featured the adventures of a deep sea diving team, the Sea Devils. The team consisted of the leader Dan Dorrance and his comrades Nicky, Biff, & Judy. The series was published from October of 1961 until June of 1967 making it to 35 issues total. It features the art and writting talents of Robert Kanigher and Russ Heath.
Read More
Looking to sell your comic books?
Browse our selection of key issues from Sea Devils below to get an instant estimate of their value.
We have been buying and selling for 20 years and have tons of experience working with sellers just like you!