Disclaimer:
When you click on link title "Check Live eBay Prices Here" on this site and make a purchase, this can result in this site earning a commission. Affiliate programs and affiliations include the eBay Partner Network. Check our Privacy Policy for more information.
Rulah Jungle Goddess
Fox // August 1948 - June 1949
Issue count: 11
Golden Age Jungle Comic with a female Jungle hero!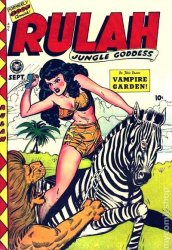 Rulah Jungle Goddess originally appeared in Zoot Comics #7. As of issue #17 publisher Fox Feature Syndicate decided to change the name of Zoot Comics to Rulah Jungle Goddess. They also featured the character in All Top Comics with other characters such as Blue Beetle, Dagar, and Desert Hawk. June 1949 saw her last appearance in her own book with issue #27 in the summer of 1949. Rulah was female pilot flying over Africa on a solo flight until her her plane crashes. She looks to the skin of a dead giraffe for clothing, aquires a pet panther, and eventually saves a local tribe from an evil woman so they name their queen. Much like the Phantom she stays in the jungle as its protector. She often accompanied by her pet panther, Saber.
Read More
Looking to sell your comic books?
Browse our selection of key issues from Rulah Jungle Goddess below to get an instant estimate of their value.
We have been buying and selling for 20 years and have tons of experience working with sellers just like you!