Disclaimer:
When you click on link title "Check Live eBay Prices Here" on this site and make a purchase, this can result in this site earning a commission. Affiliate programs and affiliations include the eBay Partner Network. Check our Privacy Policy for more information.
Richie Rich
Harvey // November 1960 - January 1991
Issue count: 254
The adventures of the poor, little rich boy! See what copies that are floating around are selling for by using our online price guide!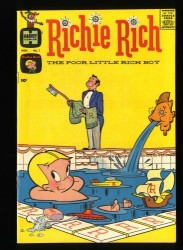 Richie Rich was the comic series fully dedicated to the adventures and tales of Richie Rich, the rich kid that's one of the most famous characters in pop culture. The comic was alive for more than 30 years, and it led to an animated series and several movies.

Richie first made his appearance in Little Dot, a 1953 series. After a few years, Harvey decided to give Richie his own comic series, which in turn proved to be the right decision.
Read More
Looking to sell your comic books?
Browse our selection of key issues from Richie Rich below to get an instant estimate of their value.
We have been buying and selling for 20 years and have tons of experience working with sellers just like you!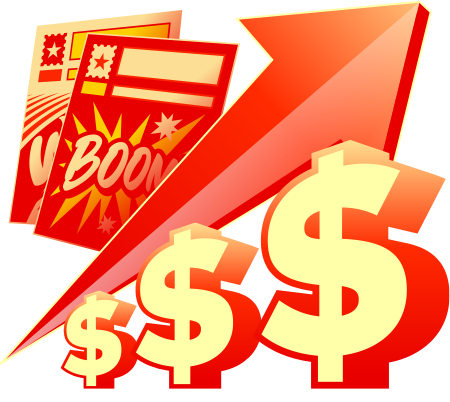 Issue #1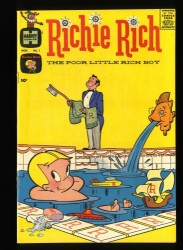 What's Richie Rich #1 worth in 2023?
The first issue from Richie Rich Vol. 1 has a very respectable value of $48,995, paid for a 9.6 copy in May 2016. Its price has more than doubled since 2011, when it was valued at $23,900. Another copy, rated 5.5, sold in December 2020 for $2,495, again increasing its value from $1,750 in 2019. And a 0.5 book sold in July 2020 for $347, that being the only time it was sold.
Why is this comic book valuable?
Issue #1 of Richie Rich Vol. 1 was published in November 1960. It was written, penciled and inked by Warren Kremer, Sid Couchey and Sid Jacobson.
Key Facts About the Comic
Richie was a huge success, and the franchise started with a comic, but ended up with merchandising, a TV series and some movies.
Story Synopsis
The issue features stories from Richie Rich and some other famous kids from the comic series:

Richie Rich story "Early To Bed"
Pee Wee story "Yippee!"
Little Dot story "Golly, Look at those big dots in the snow!"
Richie Rich story "For The Birds"
Little Dot story "Uncle Tape's Speedy Fixer"
Little Lotta story "Singing Sensation"
Price Guide Report
| GD 2.0 | VG 4.0 | FN 6.0 | VF 8.0 | NM 9.4 | RECORD SALE! |
| --- | --- | --- | --- | --- | --- |
| $900 | $950 | $2,150 | $4,075 | $9,550 | $48,995 |