Disclaimer:
When you click on link title "Check Live eBay Prices Here" on this site and make a purchase, this can result in this site earning a commission. Affiliate programs and affiliations include the eBay Partner Network. Check our Privacy Policy for more information.
Out of the Shadows
Pines // July 1952 - August 1954
Issue count: 10
Between 1952 and 1954, every company put out an explicit horror title. Pines/Standard put forth Out Of The Shadows, with more than a share of scary, face-ripping tales. See if you have any of these rare curios in your collection!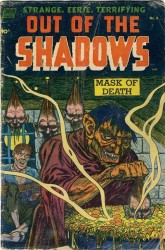 Pines Publications was named after Robert Pines, who had been in the pulp-magazine business since the late 20's. When the superhero craze came around in the late 30's, Pines followed suit and had two very big successes in The Black Terror and The Fighting Yank. Most often the imprint "Standard Comics" was used during the 40's (he had two other comic book imprints - Nedor and Better, and is most often referred to by collectors under the collective moniker "Standard/Better/Nedor" - just to avoid any confusion).
It is well known how the popularity of superheroes waned in the late 40's, and it is shortly after this that Pines followed the trend and proceeded to quickly introduce a line of humor, science-fiction and suspense/horror titles - which were more in line with the tastes of the day.
Their most well regarded horror title was Out Of The Shadows, which debuted in July of 1952, and it's cover images offer a tantalizing taste of what you got inside ; a fiend that is about to let his pet vultures feed on a man which he has tied to stakes, a grotesque kind of witch doctor submerging a human head into a scalding-hot cauldron as he forces his tied-up next victim to watch, a man-spider creature set to feast upon his human prey caught in his immense web, a big red hand lowering a knife-wielding killer puppet over the bed of a terrified old lady.
And Pines/Standard was not short of great artistic talent to make these stories come to life. Among the greats whose work you will see are Alex Toth, Jerry Grandanetti, George Tuska,George Roussos, Ruben Moriera, Ross Andru,Charles Sulton, Rocke Mastroserio, Reed Crandall, Nick Cardy, Ralph Mayo, Mike Sekowsky, Pete Morisi, Mort Meskin (a Pines favorite, contributing lots of Black Terror and Fighting Yanks stories earlier).
Not surprisingly, Out Of The Shadows only ran for 14 issues, ceasing production in late 1954. They knew that time was short for getting away with this kind of graphic content, as restrictions were put on the industry in the Spring of 1955 - it seems these comics were making our children into juvenile delinquents!
Nevertheless, Out Of The Shadows original issues are demanding high prices on the collectors market.. Check out the links on Quality Comix's online price guide!
Read More
Looking to sell your comic books?
Browse our selection of key issues from Out of the Shadows below to get an instant estimate of their value.
We have been buying and selling for 20 years and have tons of experience working with sellers just like you!