Our Fighting Forces Comic Book Price Guide
DC Comics // October-November 1954 - September-October 1978
Issue count: 181
Long-running DC War comic book that gave us faves GUNNER & SARGE and THE LOSERS! Check out what these increasingly collectible comics are going for on Quality Comix's online price guide! Click the title, and follow the link(s)!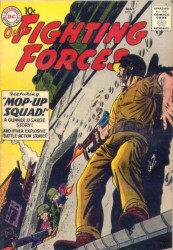 We may sound like a broken record ("We'll Meet Again" by Gracie Fields, perhaps?...oh, forget it...)', but DC could put out a war book like Our Fighting Forces that was a noticeable notch above those from other companies.
Do you own a rare issue or collection of Our Fighting Forces comics? Our comic book experts have been buying and selling comics for over 20 years. Get an instant appraisal of your comic books to find out their true value.
Read More
Looking to sell your comic books?
Browse our selection of key issues from Our Fighting Forces Comic Book Price Guide below to get an instant estimate of their value.
We have been buying and selling for 20 years and have tons of experience working with sellers just like you!