Disclaimer:
When you click on link title "Check Live eBay Prices Here" on this site and make a purchase, this can result in this site earning a commission. Affiliate programs and affiliations include the eBay Partner Network. Check our Privacy Policy for more information.
Our Army at War
DC Comics // August 1952 - February 1977
Issue count: 301
Known for their stellar War Comics, DC kicked it up a notch in issue #81 with the formal introduction of SGT. ROCK! Perhaps the most iconic comic book soldier of all time! His early issues are among the most desired war books on the market!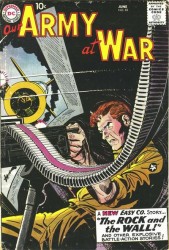 Another great war entry form DC when the popularity was reaching new heights; better stories, better art - you know they had these bases covered compared to lesser companies almost the second you open up one of these books!
This one, as a testament to that, ran for a long time (1952 - 1977).
But the crowning achievement of OAAW, was the introduction with issue #81 of one of the most identifiable and iconic figures in war comics : SGT. ROCK!!
Of course early appearances of Sarge are the most collectible, and therefore valuable, but if you can dig up issues of these from the 50's to mid-60's from the trenches (I know, corny war metaphor), you could have some pocket change!
Check out our online price guide to see what your issues may be worth!
Read More
Looking to sell your comic books?
Browse our selection of key issues from Our Army at War below to get an instant estimate of their value.
We have been buying and selling for 20 years and have tons of experience working with sellers just like you!