Disclaimer:
When you click on link title "Check Live eBay Prices Here" on this site and make a purchase, this can result in this site earning a commission. Affiliate programs and affiliations include the eBay Partner Network. Check our Privacy Policy for more information.
Mystic Comics
Timely // March 1940 - August 1942
Issue count: 10
Another home for Timely's b-list superheroes - BLUE BLAZE, DYNAMIC MAN, THE BLACK MARVEL, and THE DESTROYER (well, we'll give him a B+!). Again, very obscure, but potentially a big payoff if you happen upon any issues!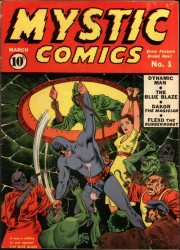 As stated before, Timely Comic's most prolific period was 1940-1945 - the War years. Marvel Mystery Comics was a runaway hit, starring Sub-Mariner, Human Torch and the Angel. In the time between premiering Marvel Mystery (1939), and introducing their next, and perhaps greatest, superhero, Captain America in 1941, Timely tried very hard to replicate their earlier all new success by bringing forth 2 additional titles that would act as a testing ground for debuting all-new "long underwear" heroes. They had high hopes. The other books they started publishing were called Daring Mystery Comics, and Mystic Comics - our subject here.
Facing the same problem of where to find additional material, Martin Goodman and Timely turned to outsourcing (as they had earlier, virtually raiding the Jacquet Shop, and the Iger/Eisner Studio in order to produce the first Marvel (Mystery) Comics.
This time out, at least for the time being, they would turn to the oldest of the "Comic Book Packaging" studios operated and overseen by Harry A. Chesler. Chesler's stable of talent was well established - and some big names that came and went through his shop were Charles Biro, Jack Cole, Jack Binder, Mort Meskin, George Tuska, Carmine Infantino and many others…
Mystic Comics #1 came out in March of 1940, and displayed the same tentativeness in committing to an ALL superhero format by padding out their new characters The Blue Blaze, Flexo,The Rubber Man, and Dynamic Man, with fairly generic adventure stories. Word is that most of this material, and that of the following three issues, came out of the Chesler Shop, with most of the stories having no writing or art credits (with the exception of Jack Binder and Fred Guardineer).
Issue #2 added The Master Mind, Excello to essentially the same cast as the first issue…
Issue #3 moved closer to being all-superhero, adding Hercules (a superhero version), to the roster mentioned above. #4 got even closer, introducing The Thin Man (resurrected briefly in the 70's), and The Black Widow. And then the pause-button was hit on Mystic…
As issue #4 came out in July of 1940, it was starting to dawn on Martin Goodman and his Editor-In-Chief Joe Simon that none of these new features were really resonating with the public the way the Marvel Mystery characters did. Some re-tooling was in order.
When Mystic Comics re-emerged with issue #5 in March of 1941, it was with almost a whole new roster of more "edgy" superheroes, this time the writing and artwork was provided by the familiar names we have come to know as Timely staffers. For Example, #5 introduced The Black Marvel by Al Gabriele, The Terror by Syd Shores, Moon Man by Fred Guardineer, and the Blazing Skull by Bob Davis.
Issue #6 brought out the character that is probably the most remembered from Mystic Comics : The Destroyer! Not only would the character dominate the lead story until the last issue (#10), but he would be revived in the 70's as a recurring character in Marvel's Invaders series.
Other interesting facts about Mystic is that a 20 year-old Stan Lee took over as editor from Joe Simon, who had famously defected to DC/National with his partner Jack Kirby in early '42. And more and more, Stan Lee's name started appearing on writing credits for many stories! But time was short by then for Mystic Comics, as a great number of the Timely staffers were conscripted into the Armed Forces to serve the war effort, and with the sudden loss of a creative team, Martin Goodman was forced to scale down production significantly until after the end of WWII.
And also, none of the heroes that passed through Mystic's pages never really hit the big-time Timely would have to be content with best sellers Captain America, Sub-Mariner, The Human Torch, and (to a lesser degree) The Angel.
Mystic Comics' ten issues remain a curious footnote to what would become the Marvel Universe, and surviving copies demand high prices on the collectors market...
Read More
Looking to sell your comic books?
Browse our selection of key issues from Mystic Comics below to get an instant estimate of their value.
We have been buying and selling for 20 years and have tons of experience working with sellers just like you!