Disclaimer:
When you click on link title "Check Live eBay Prices Here" on this site and make a purchase, this can result in this site earning a commission. Affiliate programs and affiliations include the eBay Partner Network. Check our Privacy Policy for more information.
National Comics
Quality Comics // July 1940 - November 1949
Issue count: 75
The first hero of America: Uncle Sam! See what copies that are floating around are selling for by using our online price guide!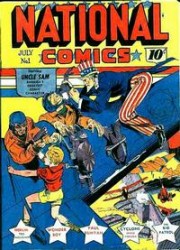 National Comics was an anthology series from the Golden Age of comics. It features stories about Uncle Sam and other American heroes fighting against enemies of the nation, often portrayed as Japanese or German foes. Quicksilver, one of the heroes featured in the comics, was later re-vamped by DC Comics as Max Mercury.

As a strange fact about the comics, issue #18, which hit the stands in November 1941, notably depicted a German attack on Pearl Harbor, a month before the actual Japanese attack on the U.S. naval base.

The series was a huge success and some say it helped the American army to recruit even more cadets for the war. After 9 years, though, it was finally cancelled.
Read More
Looking to sell your comic books?
Browse our selection of key issues from National Comics below to get an instant estimate of their value.
We have been buying and selling for 20 years and have tons of experience working with sellers just like you!