Disclaimer:
When you click on link title "Check Live eBay Prices Here" on this site and make a purchase, this can result in this site earning a commission. Affiliate programs and affiliations include the eBay Partner Network. Check our Privacy Policy for more information.
Mystic
Atlas // March 1951 - August 1957
Issue count: 61
Another pre-Marvel Atlas Comics supernatural/horror/suspense title that preceded the Marvel favorites of the late 50's-early 60's. In many cases, Mystic used the same writers and artists that would find acclaim years later! See current prices here...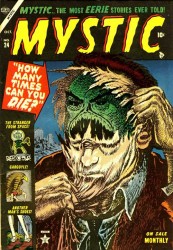 It took a little bit of time for Atlas Comics (formerly Timely Comics) to find their footing in the 1950's as far as the creative direction in which they wanted the company to go.
Martin Goodman's Timely Comics had, by 1949, ceased publication of almost all of it's superhero books that had brought it such good fortune from 1939 through the end of the Second World War. Captain America, the Human Torch and The Sub-Mariner were fading from public consciousness, and the whole comic book business was turned on its head; it seems America did not need heroes in their comics, they had them in their homes in the men and women that had come back after the big war…
One may think that tastes would have veered towards the more fanciful, for the country had had enough of the death and dying. But no - the flavor of the day was moving towards the darker subjects of everyday criminals, monsters, and unexplained phenomenon. Perhaps this turnabout in content could be explained as simply being a reflection of the collective national fatigue of war, and the uncertainty and paranoia of facing a future in a post-atomic-bomb world.
Monsters of unexplained origin, scenarios of invasions from alien beings resonated more as the threat of global communist-domination was repeatedly heralded in the daily news.
Atlas debuted their title Mystic in the Spring of 1951, and can pretty-much be considered the "sister" book of Atlas' Mystery Tales, which came out almost exactly a year later.
Similar themes and images to Mystery Tales are explored on the covers of Mystic - monsters, murders, the undead, ghosts that can't find peace, live burial, a mysterious pair of gloves that come to life, dungeon bondage, Russian zombie-soldiers, a skeleton bride and groom, dead people discovered in freezers, a human face ripped open only to reveal a hideous monster underneath, ghouls serving a decapitated head for supper, cocktails with shrunken dead men floating in them, aliens popping out of television screens, ghosts emerging from manholes and drains as an unsuspecting police officer walks his night beat…
The book ran for over six years (ceasing production in the Fall of 1957), and was a key prototype of the kind of books that Atlas - under its new name Marvel Comics - would be producing very soon. In fact, many of the same creatives that were involved in Mystic would go on to find lots of work at Marvel in the 60s and beyond. Of course, Stan Lee both edited the book and contributed stories. Among the artists responsible for many stories were Gene Colan, Dick Ayers, George Roussos (aka George Bell), Joe Sinnott, John Romita , Bill Everett, George Tuska, Gil Kane, Bob Powell, Ross Andru, Vince Colletta,Jim Mooney, Werner Roth, Jack Abel, Don Heck, Bob Brown and John Severin. These names will forever be associated with Marvel.
Mystic remains a very obscure Atlas title, making its 61 issues very collectible. Check out some of the going rates on Quality Comix's online price guide!
Read More
Looking to sell your comic books?
Browse our selection of key issues from Mystic below to get an instant estimate of their value.
We have been buying and selling for 20 years and have tons of experience working with sellers just like you!