Disclaimer:
When you click on link title "Check Live eBay Prices Here" on this site and make a purchase, this can result in this site earning a commission. Affiliate programs and affiliations include the eBay Partner Network. Check our Privacy Policy for more information.
Mystery Tales
Atlas // March 1952 - August 1957
Issue count: 54
Atlas/Marvel's Mystery Tales lasted for 5 years, and endured the implementation of the CCA, which effectively banned all "questionable" content.In many ways, this comic was the prototype for early Marvel-Age books like Strange Tales and Tales to Astonish!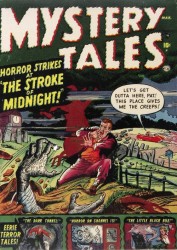 It took a little bit of time for Atlas Comics (formerly Timely Comics) to find their footing in the 1950's as far as the creative direction in which they wanted the company to go.
Martin Goodman's Timely Comics had, by 1949, ceased publication of almost all of it's superhero books that had brought it such good fortune from 1939 through the end of the Second World War. Captain America, the Human Torch and The Sub-Mariner were fading from public consciousness, and the whole comic book business was turned on its head; it seems America did not need heroes in their comics, they had them in their homes in the men and women that had come back after the big war…
One may think that tastes would have veered towards the more fanciful, for the country had had enough of the death and dying. But no - the flavor of the day was moving towards the darker subjects of everyday criminals, monsters, and unexplained phenomenon. Perhaps this turnabout in content could be explained as simply being a reflection of the collective national fatigue of war, and the uncertainty and paranoia of facing a future in a post-atomic-bomb world.
Monsters of unexplained origin, scenarios of invasions from alien beings resonated more as the threat of global communist-domination was repeatedly heralded in the daily news.
In 1952 Atlas offered up the book Mystery Tales, which reflected these changing times. A cursory glance at the covers of the 54 issues of Mystery Tales reveals content concentrating on zombies, figures returning from the dead and menacing the living were very prevalent in it's many graveyard scenes.
Additionally, unexplained phenomenon seems to pervade the recurring main themes in Mystery; demons jumping out of cinema screens, elevators to nowhere, vanishing buildings, etc.
The book ran for over five years (ceasing production in the Fall of 1957), and was a key prototype of the kind of books that Atlas - under its new name Marvel Comics - would be producing very soon. In fact, many of the same creatives were involved in Mystery Tales that would go on to find lots of work at Marvel in the 60s and beyond. Of course, Stan Lee both edited the book and contributed stories. Among the artists responsible for many stories were Gene Colan, Dick Ayers, George Roussos (aka George Bell), Joe Sinnott, John Romita , Bill Everett, George Tuska, Gil Kane, Bob Powell, Ross Andru, Vince Colletta,Jim Mooney, Werner Roth, Jack Abel, Don Heck, Bob Brown and John Severin. These names will forever be associated with Marvel.
They also did employ some veteran "ringers" on a freelance basis. In any given issue, you may find the names Bernie Krigstein, Ogden Whitney, Manny Stallman, Jerry Robinson, Russ Heath, Dave Berg, Mort Meskin executing the art duties.
All of this adds up to a high-quality title, making its issues highly sought after and collectible - fetching big dollars on the market!
Read More
Looking to sell your comic books?
Browse our selection of key issues from Mystery Tales below to get an instant estimate of their value.
We have been buying and selling for 20 years and have tons of experience working with sellers just like you!