Disclaimer:
When you click on link title "Check Live eBay Prices Here" on this site and make a purchase, this can result in this site earning a commission. Affiliate programs and affiliations include the eBay Partner Network. Check our Privacy Policy for more information.
Mystery In Space
DC Comics // April-May 1951 - September 1966
Issue count: 117
A respectable sci-fi book in it's own right, DC's Mystery In Space, with issue #53, became the permanent home for the great space-hero ADAM STRANGE! Check Quality Comix's online price guide for current going rates!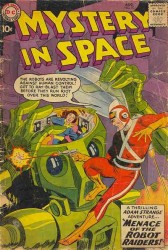 A rare science fiction title from DC!
Again, in the 50's, they had a stable of talent that could deliver a high-quality comic book!
Carmine Infantino, Harry Boltinoff, Mort Drucker, Irwin Hasen... the list goes on! Even Frank Frazetta contributed a story to issue #1; that in itself makes that issue particularly scouted for!
The late 50's brought the popular character ADAM STRANGE! He would dominate the book 'til the end of the run (1966) as the lead feature.
After a less-than-brief hiatus, DC decided to revive the title in 1977, but that might have been poor timing for the mainstream market.
However, the 50's issues are little-gems, and should be snapped up when you see 'em... and Adam Strange will always have a discriminating following...
Read More
Looking to sell your comic books?
Browse our selection of key issues from Mystery In Space below to get an instant estimate of their value.
We have been buying and selling for 20 years and have tons of experience working with sellers just like you!