Disclaimer:
When you click on link title "Check Live eBay Prices Here" on this site and make a purchase, this can result in this site earning a commission. Affiliate programs and affiliations include the eBay Partner Network. Check our Privacy Policy for more information.
Murder Incorporated
3-D Zone // January 1948 - Decembrer 1948
Issue count: 12
True Crime inspired tales of murder in a pre code comic.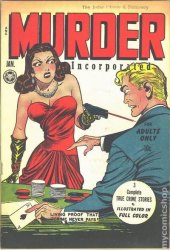 True Crime has become a key genre in modern popular culture. However in the days of pulp magazines and pre code comics during the Golden Age it had a sleezy Noir bent to it that was splashed across the pages of Fox Feature Publications' comic book Murder Incorporated. Althought it only reached 15 issues in the span of a single year its visuals certainly made an impresson. Each cover of the comic contained salacious images like a woman stabbing a man to death and a man shooting a woman. Obviously this title would not of existed after the Comics Code Authority was created
Read More
Looking to sell your comic books?
Browse our selection of key issues from Murder Incorporated below to get an instant estimate of their value.
We have been buying and selling for 20 years and have tons of experience working with sellers just like you!