Disclaimer:
When you click on link title "Check Live eBay Prices Here" on this site and make a purchase, this can result in this site earning a commission. Affiliate programs and affiliations include the eBay Partner Network. Check our Privacy Policy for more information.
More Fun Comics
DC Comics // March - April 1936 - November - December 1947
Issue count: 119
A humor book at it's inception, More Fun abruptly changed course when the superhero craze took off. We got THE SPECTRE, Dr. FATE, GREEN ARROW, and JOHNNY QUICK in these pages, until switching back to a humor title.The first-rate hero books are most wanted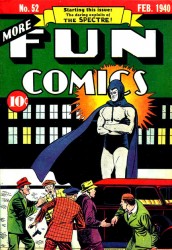 More Fun Comics may have not been as big a seller as DC's other anthology titles, but it has the distinction of introducing some of the characters that would go on to loom large in the DC Universe!
A humor/funny animal title until issue #52, when, in the heyday of the superhero craze, they abruptly changed the focus of the book by introducing Bernard Bailey's THE SPECTRE! A truly unique and intriguing character whose fame has been elevated to new heights with the passing years!
And they didn't stop there - More Fun continued to give us original and provocative heroes in issue #55, when they offered us DR. FATE! Another beloved figure that would endure into present day!
Oh, but there's more! JOHNNY QUICK made his debut in issue #71! A fun superhero distiguished by the artwork of virtuoso Mort Meskin!
Continuing in that vein, the book introduced THE GREEN ARROW - and - AQUAMAN in the same issue, #73!
The title ran for a bit longer as with those characters as mainstays (plus a smattering of SUPERBOY stories), until issue #102, when DC saw fit to return it to an all humor format...
But those hero issues are prized possesions wth collectors, fetching very high prices in the marketplace!
Read More
Looking to sell your comic books?
Browse our selection of key issues from More Fun Comics below to get an instant estimate of their value.
We have been buying and selling for 20 years and have tons of experience working with sellers just like you!