Disclaimer:
When you click on link title "Check Live eBay Prices Here" on this site and make a purchase, this can result in this site earning a commission. Affiliate programs and affiliations include the eBay Partner Network. Check our Privacy Policy for more information.
Moon Girl
EC // Winter 1947-1948 - March-April 1949
Issue count: 5
The princess of an isolated tribe of warrior women! See what copies that are floating around are selling for by using our online price guide!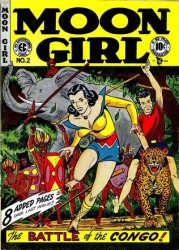 Moon Girl, a.k.a Claire Lune, is a highschool teacher. But also, a princess of a tribe of warrior women in Samarkand, who fights evil in her telepathically controlled aircraft.

She first appeared in The Happy Houlihans #1, quickly spun off into her own comic, Moon Girl and the Prince. The comic only lasted 1 issue with this name, rebranding to just Moon Girl. That series ran from issue #2 to #8. Again, it was renamed to conclude its run as A Moon, a Girl...Romance with issues #9–12. Moon Girl appears only in the story "I Was a Heart Pirate" in issue #9 and in no subsequent issue. The series continued as Weird Fantasy beginning with issue #13.
Read More
Looking to sell your comic books?
Browse our selection of key issues from Moon Girl below to get an instant estimate of their value.
We have been buying and selling for 20 years and have tons of experience working with sellers just like you!