Disclaimer:
When you click on link title "Check Live eBay Prices Here" on this site and make a purchase, this can result in this site earning a commission. Affiliate programs and affiliations include the eBay Partner Network. Check our Privacy Policy for more information.
Mister Mystery
Aragon // September 1951 - October 1954
Issue count: 19
Some of the smaller publishers in the early 50's made the raciest comics; Aragon's Mister Mystery was no exception. With their depiction of voluptuous women in grave danger, these comics are going for top dollar! Our free price guide is just a click away!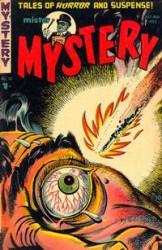 In September of 1951, at the height of the horror-comic craze, publisher Stanley Morse (Media Publications/Argyle Magazines Inc./Aragon Magazines) came out with a particularly nasty little book called Mister Mystery. Don't let the comically spooky little character that narrated the stories fool you; this comic had arguably, pound for pound, some of the most sick and distasteful cover images of the pre-code era!
And, oh, they absolutely loved bondage. Examples? OK. Issue #4 has a terrified woman tied to a pole with a mad painter about to plunge a dagger into her torso - and the canvas behind the artist has a painting of the woman in the same position, except with the knife actually in her...Issue #6 : A terrified woman is tied to a wheel being cranked forward by some sort of ghoul, and in front of the wheel is a boiling cauldron of oil which will be the poor girl's ultimate destination...Issue #7 : A terrified woman is tied up at the bottom of a shallow, skeleton filled grave while a disfigured hunchback laughingly dumps dirt into it...Issue # 16 : A terrified woman with torn clothes is tied to an altar while a decomposing mummy advances on her, presumably to turn her into a mummy also!
And those are just the bondage covers! There's more; issue #11 depicts a man buried alive up to his head while a colony of red ants are about to eat away his flesh… Issue #12 : A close-up of the side of a man's face (the man being held down, is the implication) his wide open eye awaiting the hot-poker which is about to be thrust into it...Issue #14 : A terrified man is having his head forcibly pushed into a boiling cauldron by some mystery assailant…#17 : A jungle native is about to behead a pretty, terrified blonde, whom he is holding by the hair, with a machete…#18 : A witch doctor is boiling a cauldron of recently beheaded human heads, with his two terrified next-victims are tied to a tree behind him, being forced to watch.
If this kind of stuff is up your alley, look no further than Mister Mystery. But of course, you can't carry off this kind of book without having deft artists that can make the material believable, and Comic Media retained some good ones ; Ross Andru, Mike Esposito, Jack Abel, Tony Mortellaro, Charles Stern, Don Perlin, Walter Palais, Basil Wolverton, Ed Robbins, Ed Smalle,Hy Fleishman, Eugene Hughes, Sal Trapani, and, notably Bernard Bailey, whose covers brough MM to a whole other level!
As with most of the graphic horror books of this era, Mister Mystery ceased production in late 1954, just as an industry-wide crackdown on "objectionable" material was about to be imposed.
Stanley Morse, as a publishing house, endured into the 70's - but they would never produce another book as collectible as the 19 issues of Mister Mystery!
Read More
Looking to sell your comic books?
Browse our selection of key issues from Mister Mystery below to get an instant estimate of their value.
We have been buying and selling for 20 years and have tons of experience working with sellers just like you!