Disclaimer:
When you click on link title "Check Live eBay Prices Here" on this site and make a purchase, this can result in this site earning a commission. Affiliate programs and affiliations include the eBay Partner Network. Check our Privacy Policy for more information.
Jungle Comics
Fiction House // January 1940 - Summer 1954
Issue count: 163
Another long-running Jungle title from Fiction House. Debuting in 1940, this comic is most known as the home of KAANGA : JUNGLE LORD! FH had great art and writing, making this a notch above other Tarzan-imitator comics!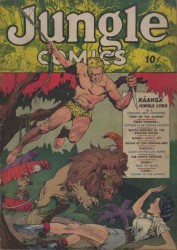 Fiction House was a very successful "Pulp" magazine publisher beginning in the late 20's. They moved lots and lots of Western and Sports stories in their magazines. Originally owned by John B. Kelly and John Glenister, they were not necessarily late to the comic book game, but entered when they saw a clear path to making a profit.

Two things instigated the change; first, by the time the comic book craze was in full swing in the late 30's, Glenister's son-in-law, Thurman Scott was pretty-much running the company. He was the one that was open to the idea of branching out into comics after being solicited by Will Eisner and Jerry Iger - the second part of our equation - as they had just opened a co-operative studio which employed a myriad of writers and artists whose collected output would then be sold to various publishers and entities that may demand any variety of material.

It was a no-brainer for Eisner and Iger to solicit established Pulp publishers, as it would seemingly be a logical transition for those types of houses to start putting comics on the market. The gap that the Eisner/Iger Shop (as it would become known) was filling, is that most Pulp publishers had no experience with how to "do" comic books, and Will and Jerry had so much talent and experience on their staff that it would be low-maintenance for some of these Pulp-guys to "buy-in."

Fiction House took the leap, and went on to essentially set the precedent for two popular comic book genres - the Science Fiction comic book, for which their Planet Comics (an extension of their best-selling pulp) must be considered "ground-zero" for that genre, beginning years before sci-fi comics would be in high demand - and the "Jungle" comic - they invented Sheena of The Jungle, and were responsible for her overwhelming popularity in the 40s and beyond.

At the outset, Jumbo Comics was not necessarily a "jungle" title. As Fiction House's first entry into the brand new comic book market, debuting in September 1938, Jumbo contained a variety of content. Among the stories of humor, adventure, juvenile, historical, spy/detective, sports, Hollywood and literary adaptations, and even briefly, superhero tales, we found a scant 3 pages dedicated to Jerry Iger's creation, Sheena Of The Jungle.

Sheena would catch on pretty fast, soon being the dominant feature in Jumbo. And although Sheena's stories continued to reside in Jumbo Comics, Fiction House knew a good thing when they had it and saw fit to begin publishing a new title exclusively dedicated to jungle tales. It was called, appropriately enough, Jungle Comics.

Premiering in January of 1940 and running a staggering 163 issues until the Summer of 1954, there were many notables about Jungle Comics; the book followed in the same trajectory as most of the other Fiction Houses titles, in that it started out at 68 pages, eventually went down to 52 pages mid-way, and ended its run at a standard 36 pages after entering the 1950's. Also amazing was the consistency in quality of Jungle Comics. From the first to the last issue the character line-up barely changed. Anchored by the Tarzan-esque Kaanga (who was a carryover from Fiction House's pulp, Jungle Stories) and his compatriot Ann Mason, his stories would occupy the both the covers and the top-slot for every issue. Then we had other mainstay variations-on-a-theme, The Red Panther, Tabu - Wizard of the Jungle, Simba - the Lion King, Wambi- The Jungle Boy, Captain Terry Thunder, Roy Lance, and of course the gals; Fantomah, Camilla- Queen of The Jungle (she was more of an anti-hero, in that she ruled a fantastical part of the jungle where neither her nor her subjects ever aged, and she was always defending her kingdom from outsiders seeking the secret. Human sacrifice was often involved!), and a rare late addition in the line-up, Tiger Girl.

And there was the consistency to the LOOK of the book; here, The Eisner/Iger Shop - and later the (post Eisner) S.M. Iger Shop ran a very tight ship. They did not hire sub-par talent, and crafted a "house-style" which was to be strictly adhered to if you wanted to get work out of their studio.

All hands were on deck, and virtually every talented artist that passed through the Iger "finishing school" had a hand in Jungle Comics at some point or another. Familiar names that would become the tops in their field, and very serviceable journeymen who may not have stayed in the business for long included Will Eisner himself (who also served as Art Director for the first several issues), Lou Fine (covers), Charles Sultan, Alex Blum, Maurice Whitman, Henry Keifer, Georder Wilson, Dick Briefer, C.A. Winter, George Tuska, Bob Powell, Nick Cardy, Arthur Peddy, Robert Webb, Ruth Atkinson, George Appel, Sal Rosen, Al Walker, John Celardo, Marcia Snyder, Sam Citron, Jim Mooney, Joe Doolin, Ruben Moreira, John Celardo, Richard Case, Frank Doyle, August Froelich, Bob Lubbers, Fran Hopper, Mike Peppe, Matt Baker, Jack Kamen and Ralph Mayo.

After cancellation, the genre of the "jungle" comic would endure, but probably not at the same level of popularity and quality that Fiction House and The Iger Shop were able to give us in the Golden Age.
Read More
Looking to sell your comic books?
Browse our selection of key issues from Jungle Comics below to get an instant estimate of their value.
We have been buying and selling for 20 years and have tons of experience working with sellers just like you!