Disclaimer:
When you click on link title "Check Live eBay Prices Here" on this site and make a purchase, this can result in this site earning a commission. Affiliate programs and affiliations include the eBay Partner Network. Check our Privacy Policy for more information.
Jumbo Comics
Fiction House // September 1938 - March 1953
Issue count: 167
Fiction House's long-running Jumbo Comics tried to have something for everyone; humor, sports, sci-fi, heroes - but one constant remained: SHEENA of THE JUNGLE! This became her feature book, making it valuable to collectors!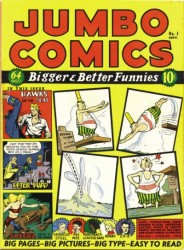 Fiction House was a very successful "Pulp" magazine publisher beginning in the late 20's. They moved lots and lots of Western and Sports stories in their magazines. Originally owned by John B. Kelly and John Glenister, they were relatively late to the comic book game.

Two things changed this; first, by the time the comic book craze was in full swing in the late 30's, Glenister's son-in-law, Thurman Scott was pretty-much running the company. He was the one that was open to the idea of branching out into comics after being solicited by Will Eisner and Jerry Iger - the second part of our equation - as they had just opened a co-operative studio which employed a myriad of writers and artists whose collected output would then be sold to various publishers and entities that may demand this type of material.

It was a no-brainer for Eisner and Iger to solicit established Pulp publishers, as it would seemingly be a logical transition for those types of houses to start putting comics on the market. The gap that the Eisner/Iger Shop (as it would become known) was filling, is that most Pulp publishers had no experience with how to "do" comic books, and Will and Jerry had so much talent and experience on their staff that it would be low-maintenance for some of these Pulp-guys to "buy-in."

Fiction House took the leap, and went on to essentially set the precedent for two popular comic book genres - the Science Fiction comic book, for which their Planet Comics (an extension of their best-selling pulp) must be considered "ground-zero" for that genre, beginning years before sci-fi comics would be in high demand - and the "Jungle" comic - they invented Sheena of The Jungle, and were responsible for her overwhelming popularity in the 40s and beyond.

At the outset, Jumbo Comics was not necessarily a "jungle" title. As Fiction House's first entry into the brand new comic book market, debuting in September 1938, Jumbo was indeed "Jumbo" in that it offered a whopping 68 pages per issue.

It was also "jumbo" in it's variety of content, among the stories of humor, adventure, juvenile, historical, spy/detective, sports, Hollywood and literary adaptations, and even briefly, superhero tales,we found a scant 3 pages dedicated to Jerry Iger's creation, Sheena Of The Jungle.

Loosly based on the character Rima, The Jungle Goddess, a character that had been around in literary form since shortly after the turn of the century, Iger first conceived Sheena in 1937. Her origin goes like this : Accompanying her explorer father on an expedition to the jungles of central Africa as a young girl, her father is accidentally killed. Infant Sheena is subsequently raised by a witch doctor, wise in all the ways of jungle survival, and, by the time she reaches adulthood has become a strong, skilled defender of her land that can also communicate with all the beasts.

By issue #9, Sheena's celebrity had already demanded her first dedicated cover in Jumbo, her page number had increased to 10 per issue, and she now occupied the first story in every issue.

Fiction House and The Iger Shop had a long, successful alliance. Sheena was first drawn by then-newbie Mort Meskin, who, along with Batman creator Bob Kane, master illustrator Lou Fine, and comic revolutionary Jack Kirby got their first comic book work through Iger. The Jungle gal's stories would eventually be taken over by Iger staffers Bob Powell, and then Robert Webb.

Sheena would be the cover feature from issue #17(July 1940) through issue #160 (June, 1952), and the pages dedicated to her stories also continued to rise throughout the run of Jumbo - although the number of pages in Jumbo went down to 52 in the late 40's, and eventually to the standard 36 pages with issue #150, in 1951.

Jumbo would always feature a variety of material, but it was on the strength of Sheena that sold the book and allowed its long lifespan. Curiously, although both Jack Kamen and Matt Baker, artists who by reputation had a knack for drawing attractive women, neither were ever assigned Sheena stories. They both got their "good-girl" work though other Iger titles like Jo-Jo Comics and Phantom Lady.

Jumbo wound down its last several issues by starting to incorporate horror/suspense and true-crime stories in hopes that these two timely genres would keep the book going. It did not work out that way, and Jumbo's last issue was #167, dated March 1953.

Sheena would survive and go on to rule the pages of Jungle Comics…but that's another story.
Read More
Looking to sell your comic books?
Browse our selection of key issues from Jumbo Comics below to get an instant estimate of their value.
We have been buying and selling for 20 years and have tons of experience working with sellers just like you!