Disclaimer:
When you click on link title "Check Live eBay Prices Here" on this site and make a purchase, this can result in this site earning a commission. Affiliate programs and affiliations include the eBay Partner Network. Check our Privacy Policy for more information.
Justice League Of America
DC Comics // October 1960 - April 1987
Issue count: 261
Perhaps the most popular "team" title ever! DC's JLA is extremely loved and very collectible with early and key issues being of high value! See examples of going prices here!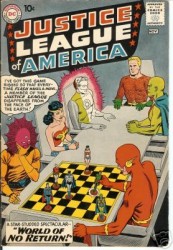 Fresh off their introduction and short run in The Brave and The Bold #28 - 30, The Justice League of America left fans clamouring for more! Thus came the book dedicated just to them in 1960.
Closely following the formula that made The Justice Society a big success in All-Star Comics in the 40's, this long running title set the precident for all "team" books to come in the Silver-Age!
It was fun to see the popular DC characters interacting together, and The JLA proved to be an enduring classic!
With members coming in and out, the lineup did change often, but consistency was maintained by pemanent writer/artist team of Gardner Fox and Mike Sekowsky in the 60's, and then Mike Friedrich and Dick Dillin in the 70's.
The book would ocassional feature cross-overs and resurrections of the Justice Society, who now resided on "Earth 2."
Earlier issues in acceptable condition sell for a good hunck of change, and, in general, issues that feature first appearances by major villians and supporting characters (of which ther were many), are also desireable on the market!
Read More
Looking to sell your comic books?
Browse our selection of key issues from Justice League Of America below to get an instant estimate of their value.
We have been buying and selling for 20 years and have tons of experience working with sellers just like you!