Iron Man
Marvel // May 1968 - September 1996
Issue count: 332
When IRON MAN was given his own title in 1968, there was no looking back! There are several key issues, most notably #55 which introduced THANOS! See Quality Comix's price guide for examples of current values...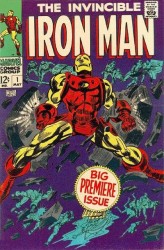 In the Spring of 1963, Marvel Comics rolled out another in a series of wildly popular characters, Iron Man, in it's anthology title Tales of Suspense (issue #39).
An egomaniacal, high-livin' playboy, genius weapons engineer/ millionaire Tony Stark is injured while being kidnapped by "the communists", purportedly to have Stark build them a weapon of mass destruction. He, instead, attempts to save his own life by building a suit of armor that both keeps the shrapnel embedded in his chest from becoming fatal, and allows him to overcome his captors with an arsenal of built-in weapons...Smart guy, right?
Well, it turns out that Stark has to live the rest of his life with his "chest plate" in order to keep from kicking the bucket. So he does what every other millionaire-playboy would do, he refines his armor and it's weapons and decides to become a super do-gooder! Stark then tells everyone he knows that Iron Man is his "bodyguard," so that his frequent appearances did not arouse suspicion - and it worked!
A myriad of icnoniclastic villiains that would be recurring characters - not just in Iron Man Stories - would be introduced : The Mandarin, The Melter, Crimson Dynamo, Titanium Man, The Black Widow, the Unicorn, Hawkeye (originally a bad guy),The Black Knight (resurrected as a bad guy, too), Ultimo, Crusher, Whiplash...
In 1968, Marvel started to end most of their "anthology" titles, that is, books which featured 2 characters in one book, each with their own half of the comic...so it was when Tales of Suspense ended that Iron Man received a book of his own.
Notable key books of value where in this initial run, including issue #54, which introduced Moondragon, and the very next issue #55, which introduced THANOS (and Kronos and Drax)!
Other interesting periods included the 1979 storyline, oft referred to as "Demon In A Bottle," which saw Tony Stark hitting rock bottom in his struggle with alcoholism! This era also featured early artwork by John Romita, Jr., with David Michelinie handling the writing.
This particular Iron Man title finished it's run in 1996.
Shortly after, Iron Man would have a successful screen presence in some of the first huge money-making offerings from the Marvel Pictures dynasty. His popularity continues to rise in the 2010's with the character's reccurring role in many Marvel Studios franchise movies...
Looking to sell an Iron Man issue or a collection of comics you own? Browse our wide selection of Iron Man comic price guides by issue. Get a ballpark estimate of the value of your comic based on its grading and condition. We have been buying and selling for 20 years and have tons of experience working with sellers just like you! Get in touch for a FREE appraisal.
Read More
Looking to sell your comic books?
Browse our selection of key issues from Iron Man below to get an instant estimate of their value.
We have been buying and selling for 20 years and have tons of experience working with sellers just like you!