Disclaimer:
When you click on link title "Check Live eBay Prices Here" on this site and make a purchase, this can result in this site earning a commission. Affiliate programs and affiliations include the eBay Partner Network. Check our Privacy Policy for more information.
House Of Secrets
DC Comics // November-December 1956 - September-October 1966
Issue count: 154
DC proved themselves capable of producing a quality horror title in the Silver-Age with HOUSE OF SECRETS! This book gave the world ECLIPSO, ABEL, and SWAMP THING! Very hunted-for by discerning horror fans!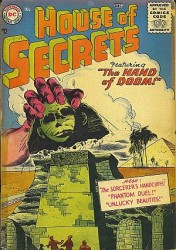 Supernatural/Suspense/Horror was not necessarily in DC Comic's wheelhouse in the mid 50's, but they pulled out a good one when they started publishing House of Secrets in 1956!
They had a strong bullpen of artists that could excel in any genre, and indeed they all came off the bench for this one: Ruben Moreira, Mort Drucker, Bernard Bailey, George Roussos, Mort Meskin and Jack Kirby all contributed to early issues.
They kept the quality up through the 60's and 70's with great work by Neil Adams, Jack Sparling, Jim Aparo, Alfredo Alcala, Gray Morrow, and most notably Bernie Wrightson, who made history in issue #92 with the introduction of the one and only SWAMP THING!
Horror comics are becoming more collectible as the years go by!
Read More
Looking to sell your comic books?
Browse our selection of key issues from House Of Secrets below to get an instant estimate of their value.
We have been buying and selling for 20 years and have tons of experience working with sellers just like you!