Disclaimer:
When you click on link title "Check Live eBay Prices Here" on this site and make a purchase, this can result in this site earning a commission. Affiliate programs and affiliations include the eBay Partner Network. Check our Privacy Policy for more information.
House Of Mystery
DC Comics // December 1951 - October 1983
Issue count: 321
Freaky and supernatural stories from the Golden Age! See what copies that are floating around are selling for by using our online price guide!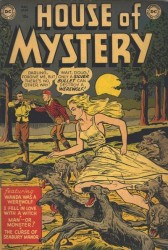 House Of Mystery was one of the most successful DC Comics from the Golden Age, considering it has 321 issues, released every month, and without major changes to the series soul and story.

Each copy featured several stories, worked on by a variety of writers and artists, with witches, werewolves and other supernatural and fantasy creatures as the main threat to humans in every story.

After 31 years of the comic, DC decided to fully dedicate themselves to their superhero projects and the series was put to rest. However, a second volume was released in 2008, but only with 42 issues under the name.
Read More
Looking to sell your comic books?
Browse our selection of key issues from House Of Mystery below to get an instant estimate of their value.
We have been buying and selling for 20 years and have tons of experience working with sellers just like you!