Disclaimer:
When you click on link title "Check Live eBay Prices Here" on this site and make a purchase, this can result in this site earning a commission. Affiliate programs and affiliations include the eBay Partner Network. Check our Privacy Policy for more information.
Headline Comics
Prize // February 1943 - October 1956
Issue count: 77
The Axis-punching superheroes and the appealing dramas every Golden Age comic fan loves! See what copies that are floating around are selling for by using our online price guide!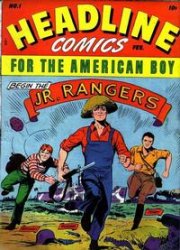 Headline Comics first started as an ordinary comic in the early 40s: stories about masked heroes going to Japan or Germany to fight the Axis forces. They gained recognition with these tales, but after the war ended, they needed to shift the main line of the comics.

Jack Kirby and Joe Simon then began working on the comic, creating new tales about dramas and deeper issues than fighting. Towards the end of the series, they returned to Marvel Comics and Headline managed to stay afloat for a while, but it was finally canceled in 1956 after releasing 77 issues.
Read More
Looking to sell your comic books?
Browse our selection of key issues from Headline Comics below to get an instant estimate of their value.
We have been buying and selling for 20 years and have tons of experience working with sellers just like you!