Disclaimer:
When you click on link title "Check Live eBay Prices Here" on this site and make a purchase, this can result in this site earning a commission. Affiliate programs and affiliations include the eBay Partner Network. Check our Privacy Policy for more information.
Hit Comics
3-D Zone // July 1940 - July 1950
Issue count: 65
You'll find Hercules and other classic superheroes inside these pages! Find out what copies of this series are selling for by using our online price guide.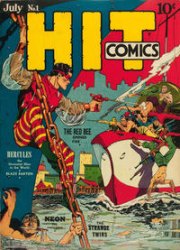 Hit Comics was a comic series first released in 1940. It featured stories with superheroes or regular people with special skills, such as Hercules, Jack and Jill, the Strange Twins and Neutrality Patrol.

The series managed to stay in the same line for the 10 years it was released, only changing some of the main characters featured in the pages.

Eventually, Quality Comics was acquired by DC and all of the comics registered to this publisher moved into DC's hands. Some of the characters and stories featured in this series were re-printed or appeared in later comics, but no issue under the name of Hit Comics was ever published after 1950.
Read More
Looking to sell your comic books?
Browse our selection of key issues from Hit Comics below to get an instant estimate of their value.
We have been buying and selling for 20 years and have tons of experience working with sellers just like you!