Disclaimer:
When you click on link title "Check Live eBay Prices Here" on this site and make a purchase, this can result in this site earning a commission. Affiliate programs and affiliations include the eBay Partner Network. Check our Privacy Policy for more information.
Forbidden Worlds
American Comics Group // July/August 1951 - October/November 1954; August 1955 - August 1967
Issue count: 145
Another genre-bending title from ACG; Supernatural, Sci-fi, and usually some kind of Monster thrown into the mix! These are getting very hard to find! Our free price guide will tell you the value of these rare books...click away!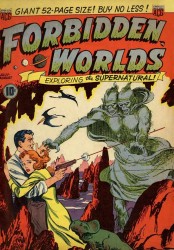 Harry Donenfeld was a comics pioneer...well, sort of. He had been kicking around the publishing business for a while. In the 20's he was responsible for producing books in the popular "Pulp" genre - his always bore particularly racey "bodice-ripper"-types of covers, and several of his titles did indeed include the moniker "Spicy…"
As time moved on, he established and owned National Allied Publications. This was the company which became known as publishing some of the first comic books, and was more known as DC Comics. After issuing some humor and adventure books, a young creative team, Joe Shuster and Jerry Siegel approached Donenfeld with the character Superman. Donenfeld didn't like the idea at all, but still reluctantly included it in his new title, Action Comics. The rest, as they say, is history.
Donenfeld made his fortune with National/DC, but he also owned a piece of another company; American Comics Group - better known as ACG. This was a joint-owned operation with Benjamin W. Sangor, Harry's old pal, who ran a studio in the late 30's producing ready made material for syndicated newspaper comics sections (The Sangor Shop ended up producing the characters and supplying stories featuring The Black Terror, Pyroman, and Fighting Yank for Pines' Nedor Comics and produced most of the comics for Pines until 1945). Having the two key elements, business and content, Sangor and Donenfeld started ACG in 1943.
It took awhile for the company to have any traction, but after former Sangor associate editor and administrator Fred Iger (no relation to Jerry) bought into the business, in 1948 ACG brought out the title Adventures Into The Unknown, a horror/supernatural/science fiction book which predated many of the rival publisher's own offerings in this genre, which would become the dominantly popular comic book genre(s) for the next decade.
In 1951, with Adventures selling consistently, ACG introduced what could be considered its "sister" title, Forbidden Worlds.
Forbidden worlds started out with stories leaning more toward the horror/monster/scary fare, but in short time evolved into having more of an unexplained phenomenon/sci-fi/nightmarish bent. It's initial subtitle was "Exploring The Supernatural!" while later on it became "Stories Of Strange Adventure!"
ACG never really had a thing for gratuitous images of murder/torture or overt sexuality like most other publishers books of this kind before 1955, this may explain why both of these titles ran for so long (ACG in effect shut it's doors in 1967); both books survived the implementation of the Comics Code Authority in 1955. They really didn't have alter their material all that much.
Also in common, both Adventures and Forbidden used the same talent pool - established freelancers that you may recognize and up-and-comers that would find success later; Al Williamson, Frank Frazetta, Paul Reinman, Ogden Whitney ,Wally Wood, Al Camy, Paul Gustavson, Sheldon Moldoff, Chic Stone, Kurt Schaffenberger, Pete Costanza,John Forte, John Buscema, Jack Sparling, Joe Sinnott and Rudu Palais; and not-so-recognized names that, outside of horror/supernatural fanatics and ACG scholars, might not be so familiar; Henry Keifer, Edvard Moritz, Charlie Sultan, King Ward, Ken Bald (did great covers for this series), Lin Streeter, Lou Cameron, Pete Riss, George Wilhelms, Harry Lazarus, Charles Quinlan, Ken Landau, Art Gates, John Rosenberger, Dick Beck, Emil Gershwin, and others…
The artists in this last group seemed to be particularly devoted to ACG, as their work appears in almost all of their titles.
Writing credits are a bit sketchier; it is suspected that Editor Richard Hughes probably had a hand in most of the uncredited features, and it is confirmed that he actually did write many stories under a myriad of "pen-names."
ACG was losing steam at the end of the 50's/early 60's, and from this point on in Forbidden worlds up to 50% of the material in each issue was comprised of reprints from other titles and earlier issues.
As with Adventures Into The Unknown, a late-in-the-game stab was made at entering the now flourishing super-hero market with the introduction of the character Magicaman, in issue #125 (1965). His adventures were featured through issue #141(1967), but, finding little appeal amongst the readers, was done away with beginning with the next issue.
Turns out that there were only 4 more issues left for Forbidden Worlds as it, and ACG product, disappeared in the fall of that year.
As one might suspect, earlier issues are getting harder to find, and thus demanding higher prices on the collector's marketplace; But Forbidden Worlds should be remembered as the consistently quality comic book that it was.
Read More
Looking to sell your comic books?
Browse our selection of key issues from Forbidden Worlds below to get an instant estimate of their value.
We have been buying and selling for 20 years and have tons of experience working with sellers just like you!